Beginner
Mark as New

Bookmark

Subscribe

Mute

Email to a Friend
Display initial calling number on a device being forwarded the call to
HI everyone,
I would like to ask... currently I am using CM v11.5. I turned on the phone forwarding on my desk phone (8851) so all calls calling to my ext will forward to my cell.
Here is what happen. If someone from outside calls my desk phone number, it will forward to my cell certainly. But the calling number is not displayed as the initial calling number. Instead, it displayed as my company number. How do I correct this?

Example: Caller A with number 415-111-1111 calls my desk phone 650-123-4567. My desk phone will forward to my cell 408-888-8888. Now on my cell, I get call...but it shows as 650-123-4567 instead of the calling number 415-111-1111.


How do I configure or correct this?
Thank you for your help.

Takami Chiro
2 ACCEPTED SOLUTIONS
Beginner
Mark as New

Bookmark

Subscribe

Mute

Email to a Friend
Hi Takami,
There are a few possibilities here and it may require a bit more information to give a full answer; nonetheless, please find a few things to check below and let me know what you find.
In the CUCM Admin page, check under Call Routing > Route/Hunt > Route Pattern for the patterns used for PSTN calls to the cell number (650-123-4567). If your call forwarding on your extension begins with a 9 or 91, the Route Pattern could look something like 9.[2-9]XX[2-9]XXXXXX or 91.[2-9]XX[2-9]XXXXXX.

If your PSTN gateway is a CUBE for example, run a SIP debug (debug ccsip messages) and make a test call to recreate the scenario. Check to see if the Diversion header is included with the original calling party number. If so, we can use a SIP profile to copy the Diversion field into the From: field of the SIP INVITE.

Check to see if the "Redirecting Diversion Header Delivery - Outbound" setting is enabled on the SIP Trunk to your CUBE.
I look forward to helping you resolve this issue!
Please rate this post if it is helpful.
-Dalton Woolsey
Beginner
Mark as New

Bookmark

Subscribe

Mute

Email to a Friend
Hi Takami,
If we click on the T1 interface, we should be able to set the outbound call information as needed, including the Calling Party Selection.
Please note that the Apply Config/Reset/Restart may drop calls in progress when the config is pushed to the MGCP gateway, so please test after hours.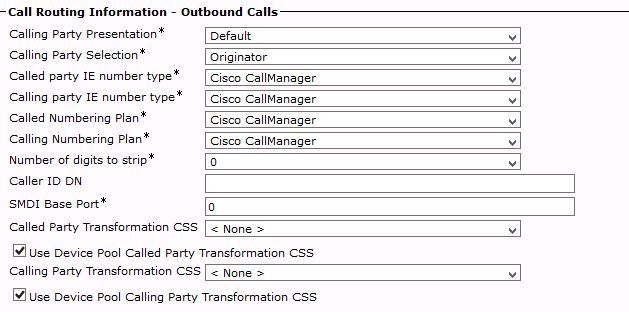 Regards,
Dalton Woolsey
CCIE Collaboration #65061
*Please rate all posts that are helpful*