Options
Mark as New

Bookmark

Subscribe

Mute
‎12-20-2021 11:07 AM
The Problem
Hello
I'm having some trouble with my DHCP Server. It doesn't work at all and the clients are only taking IP-Addresses from 'APIPA'.
I'm using different DHCP Pools, which should be used for the different VLANs I configured.
What I've tried so far
The solution approach I tried was something with DHCP Relay & helper-address, but in my case there's only 1 Router, so that can't be it...
Further questions
I wasn't quite sure how to configure de default Router on each DHCP Pool. Do I need an Default Router for every Subnet or is it in this case always the IP of the Router itself? (172.16.15.1, as I configured)
Initial situation
This is my IPAM: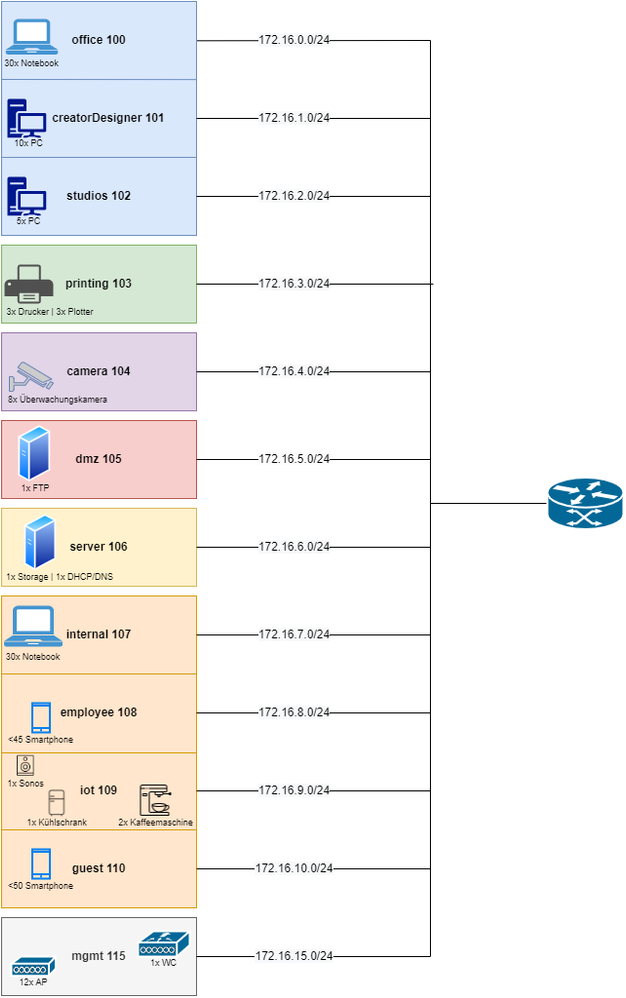 You can download my Pack Tracer File here.
1 Accepted Solution
Options
Mark as New

Bookmark

Subscribe

Mute
‎12-21-2021 06:17 AM - edited ‎12-21-2021 06:18 AM
Options
Mark as New

Bookmark

Subscribe

Mute
‎12-21-2021 06:17 AM - edited ‎12-21-2021 06:18 AM