Cisco Employee
Mark as New

Mark as Read

Bookmark

Subscribe

Email to a Friend
Technology is continuing to advance at a very rapid pace. In the early part of the new millennium, there was skepticism regarding the use of power over ethernet but as technology by its very nature never stops to advance, devices like high power access points, digital signage, nurse calling stations, high-definition cameras, USB-C dongles and smart TV's are already part of the network and are being powered using a single RJ-45 cable with Power over Ethernet (PoE).
What is Cisco UPOE+©?
Cisco UPOE+© combines the latest IEEE 802.3bt standard of power over ethernet with support for all previous IEEE standards and Cisco UPOE©. With the advent of 90-watt, digital building transformation has taken a leapfrog by incorporating several measures to safely, efficiently and cost effectively deliver power and data using common network structure. For delated information on 90-watts (Cisco UPOE+ / IEEE 802.3bt), please refer to the IT and OT convergence white paper.
90W UPOE+ Use-Cases
Daisy-chaining the PoE lights greatly reduce cost by using fewer ports since more lights can be connected on a single switch port. Connecting PoE Pass-through desktop switches really simplify overall cabling and is ideal for space-constrained areas. PoE powered USB-C dongles for charging laptops as well as providing data connectivity on the same cable have the potential to replace the existing power bricks. Finally, the explosion of the PoE powered IoT ecosystem is also seeing an addition of new high-power endpoints such as desktop monitors, UHD cameras, Minibars, HVAC etc. creating great use cases for 90W UPOE+.Cisco's integration of 90W UPOE+© line cards in its Catalyst 9400 series modular switch series as well as Catalyst 9300 series fixed switches is making all of the use cases above a reality.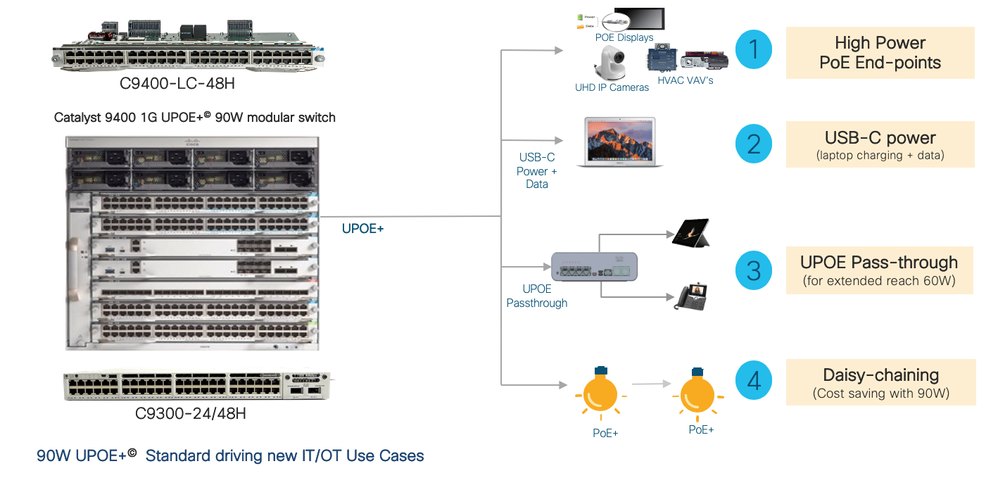 Cisco DNA-Center PoE Analytic Assurance
With hundreds of devices in the environment, getting complete visibility into the endpoints and monitoring switches for power usage and overall capacity has always been a challenge. One had to go switch by switch to see, what's the overall power budget of each device; how much power has been utilized and how much is the remaining power budget.
Cisco DNA Center version 2.1 brings in a capability of PoE analytics assurance for a robust and efficient digital building solution that resolves all of the above-mentioned challenges. It provides PoE visibility and assurance for the entire network - power budget and real time utilization on individual switches and switch stacks, visibility into end point device types, operational states and power consumption metrics, as well as troubleshooting options that enable easy fixes with just a few clicks.
This offers complete control to add PoE endpoints to the most suitable switch without accessing the CLI. Four PoE dashlets have been added to the assurance page.
1. PoE Operational State Distribution
Provides the total number of powered devices and overall status (On, Off, Faulty, Power denied, Error disabled; as shown in the snapshot below) of the POE endpoints in the entire network. By using the view detail option on each widget, the problematic endpoints on particular switches and specific locations can be identified and corrected.
2. Power Device Distribution
Displays the PoE endpoint distribution based on power allocation and device class of the endpoints in the network, as well as the location with the most end points connected can be identified which comes in really handy when doing capacity planning.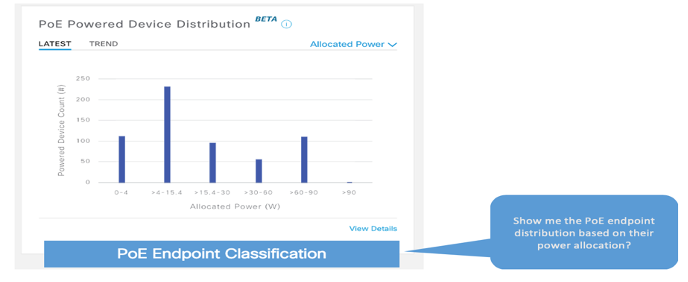 3. PoE Insights
As the name suggests, this widget provides insight on whether features like Perpetual PoE or Fast PoE are enabled for endpoints where high availability is required. The widget also includes a dropdown menu showing if all endpoints are IEEE compliant. The availability of this information ensures that all critical POE endpoints are protected and function correctly if the switch is rebooted.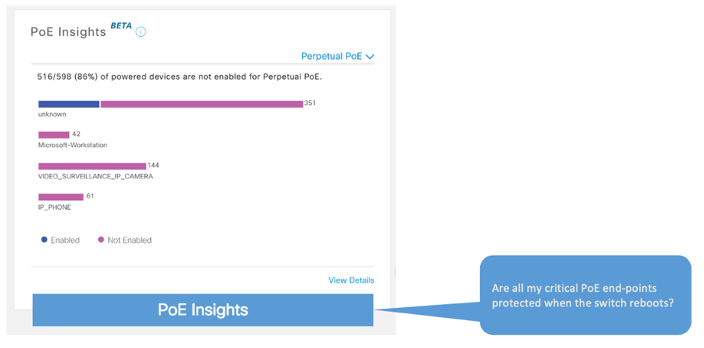 4. Power Load Distribution
PLD Displays the overall power load on switches. Various loads can be filtered in the widget to display the devices currently using that power budget as well as switches with lower power loads so PoE endpoints can be added to those switches based on these values.
All of these widgets offer the view details tab providing a 360 view for each device.
Cisco DNA-Center Assurance identifies the issues and provides detailed trouble-shooting steps for easy resolution. Maintaining logs showing problem detail, DNA-C Assurance helps identify whether the device is faulty, if the switchport has shutdown, or if the device is asking for more power than it has negotiated in the beginning. It provides suggested troubleshooting actions where the commands can be run directly via Cisco DNA Center. If the issue remains unresolved which is highly unlikely, a TAC case can also be initiated with just a single click.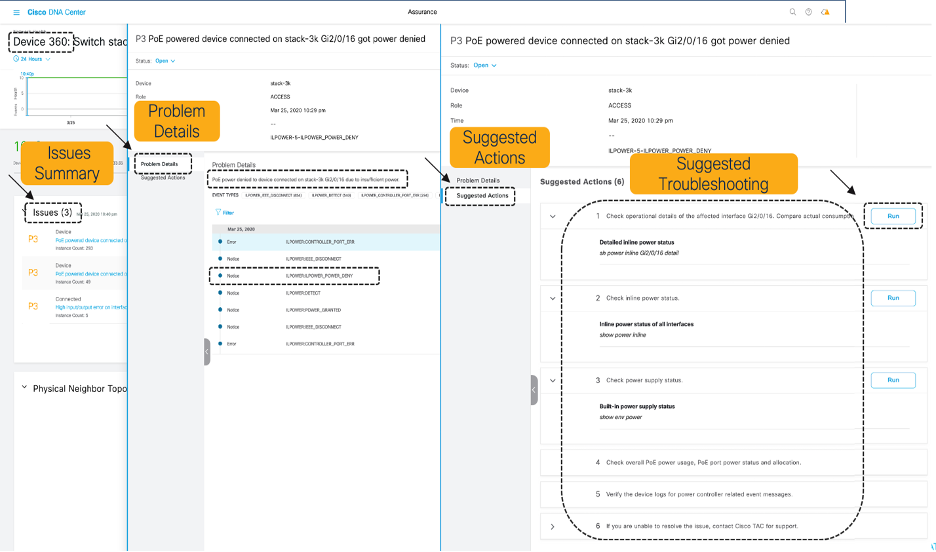 Cisco offers the most universally adaptable switches for any network environment, that are capable of providing power over ethernet with up to 10 Gigabit of high-speed data on (UTP/RJ45) cables and Cisco DNA-Center for seamless management. As millions of PoE-powered devices are entering the network through these technological advancements, this ease in management is a necessary component in this digital building solution. Cisco is constantly innovating and offering new capabilities in hardware and software releases and there is still so much more to come on the PoE analytics front. Stay tuned for more as we continue to inspire new possibilities by reimagining your applications, transforming your infrastructure and empowering your teams.
2 Comments
You must be a registered user to add a comment. If you've already registered, sign in. Otherwise, register and sign in.