Options
Mark as New

Mark as Read

Bookmark

Subscribe
On 24th August 2021, Cisco announced the latest IOS XE release - Cisco IOS XE Bengaluru 17.6.1a
IOS XE 17.6.1a unlocks various routing features and enhancements comprehensively covering different technology segments such as voice, security, layer 2, layer 3, network management, and the list goes on.
Here is a summary of all the key features introduced in all these segments: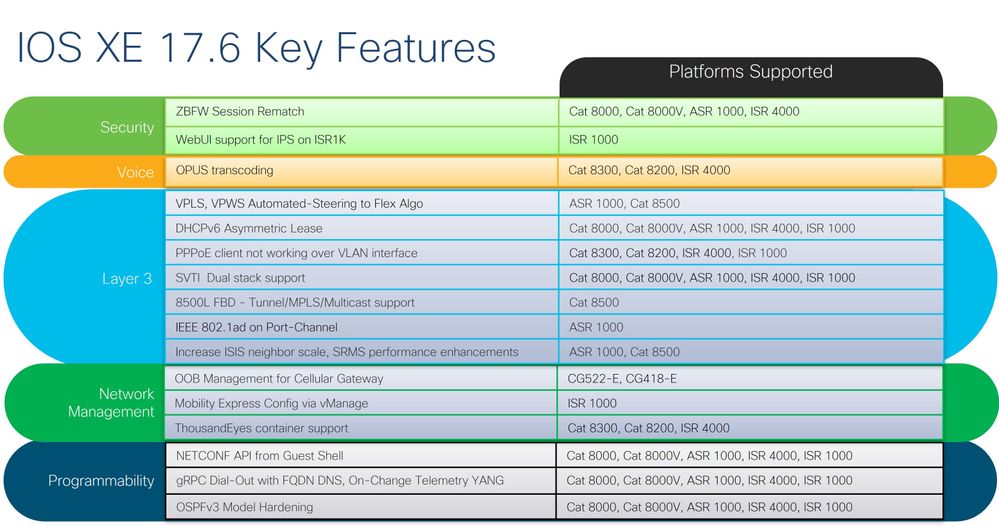 Network Intelligence with Monitoring
The Cisco ThousandEyes Network Intelligence platform allows users to run synthetic network and application tests from over 350 global vantage points as well as from internal networks to monitor network and application performance. It enables end-to-end visibility for paths across networks and services. Indirectly the real time monitoring enables network performance analysis across internal, external and internet network endpoints.
Cisco ThousandEyes Enterprise Agent application can be hosted as a container service on both Cisco Catalyst 8300 and 8200 Series platforms starting 17.6.1 IOS XE release. Container is managed using IOx. IOx is Cisco's Application Hosting Infrastructure for Cisco IOS XE devices. It enables hosting of applications and services developed by Cisco, partners, and third-party developers in network edge devices, seamlessly across diverse and disparate hardware platforms.
Native TE Agent on Routing platforms support Non BrowserBot mode only​. TE Agent can be installed on bootflash, M.2 eUSB/NVMe or SSD storage​. Following is the resource requirement.
| | |
| --- | --- |
| Resource | Non BrowserBot mode |
| vCPU | 1 vCPU |
| Memory | 500 MB |
| Storage | 2 GB |
Minimum 8GB platform memory required. SP-heavy mode is required in C8300/C8200 platforms.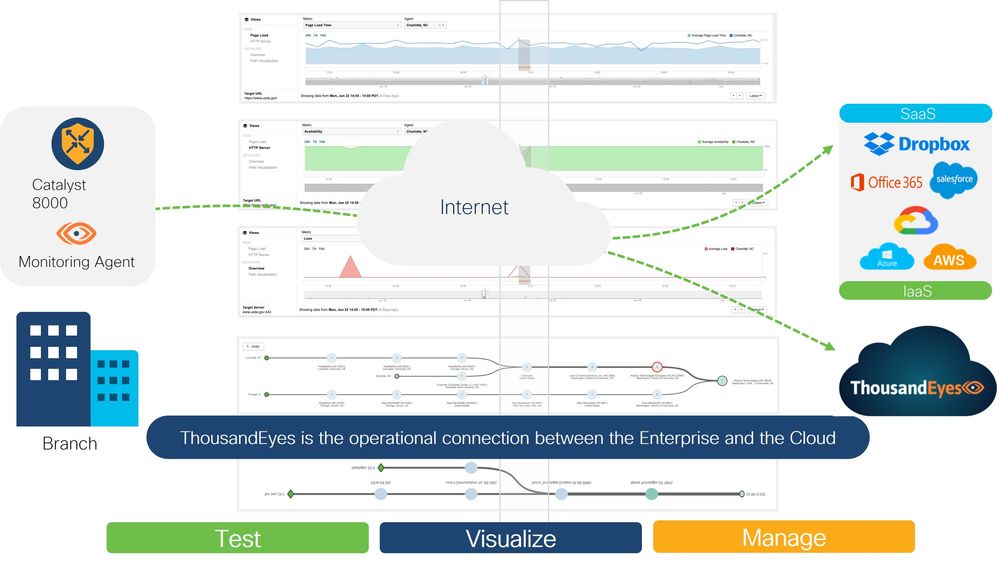 Transforming WAN Edge with Network Intelligence
New Ethernet WAN Modules : C-NIM-2T and C-NIM-1M
The C-NIM-2T is a dual combo port module with two RJ-45 copper line ports and two SFP fiber ports. The ports on this NIM are configured in two port groups with one RJ45 port and one SFP port in each group. One port from each group can be configured for simultaneous use, providing flexibility in the selection of media for WAN connectivity. The RJ-45 ports support 100BASE-TX and 1000BASE-T copper connections. The SFP ports support 100BASE-FX and 1000BASE-X fiber connections. The module supports 256-bit WAN MACsec. The C-NIM-2T is supported on the Catalyst 8200 Series, 8200L, and all 8300 Series platforms.
The C-NIM-1M is a single-port 2.5-Gbps BASE-T port module with Cisco UPOE+ (90W).
Its single copper port supports 100/1000/2500BASE-T connections, popularly called a Multigigabit (mGig) port. This module also supports Cisco UPOE+ (802.3bt, up to 90W), which can be used for powering a cellular gateway directly from the host router. The C-NIM-1M is supported on the Catalyst 8200 Series, 8200L, and all 8300 Series platforms.
Security
The Zone-Based Firewall reclassification feature is introduced. This feature enforces changes, if any, to a policy configuration on the existing sessions, midflow. There is a balance of maintaining user experience and implementing the required security policies with this zone based firewall rematch capability.
VoIP
Large number of Webex Calling users and Webex CC agents are working from home in the recent turn of events. In home internet connections, typically there is variance in available bandwidth that affects audio quality and user experience.
OPUS codec offers better audio quality to remote workers/ Call center agents ( over VPN). OPUS is an adaptive codec that provides better quality than G711/G729 in a low bandwidth environment. The codec has a very low algorithm delay, and it is highly scalable in terms of audio bandwidth bitrate, and complexity.
Starting 17.6.1a, OPUS Phase 1 support is for IP to IP flows. DSPFARM transcoding between OPUS and the audio codecs g711ulaw, g711alaw, g722, g729a, g729ab, ilbc, isac is supported.
Programmability
The NETCONF API on IOS XE is now accessible from within the Guest Shell container – no additional interface configuration or connectivity is required. The ncclient python library can be used to connect to the NETCONF interface when there is no IP connectivity, similar to the Python CLI modules and API.
This can be used by ZTP at Day 0 to programmatically configure the device using either CLI and/or YANG.
By now you might have realised how feature rich this latest IOS XE release is, but if you would like to know more , please check out the platform specific release notes on the portal.
You must be a registered user to add a comment. If you've already registered, sign in. Otherwise, register and sign in.