Highlighted

Beginner
Mark as New

Bookmark

Subscribe

Mute

Email to a Friend
BGP routes when OSPF routes are unavailable
Hello,
Here is my simplified network layout (AS and IPs are made up for privacy):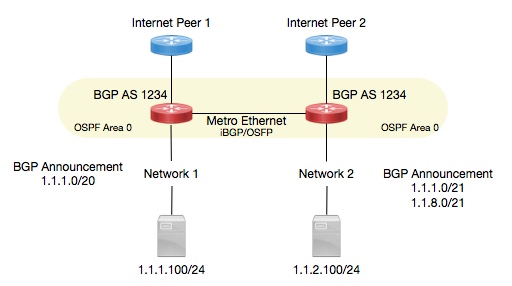 As you can see, we own one /20 and we have two locations connected to two different Internet peers. Network 1 is announcing the whole /20 and Network 2 is announcing the same IP space broken up in two /21. The more specific BGP announcement wins. Both locations are also connected via a Metro Ethernet connection and both sides are part of OSPF area 0. Both locations are also BGP peering with each other. Routing between both locations works fine, so does the BGP routing to our peers. Should Internet Peer 1 fail, traffic makes it just fine to Network 1 via Internet Peer 2 and it's connected Metro ethernet. So, basically, everything is working great as long as the Metro Ethernet link between Network 1 and Network 2 is up. If the Metro Ethernet connection fails, I can no longer reach resources on the other network. The plan is that traffic should go over the internet if the Metro Ethernet connection is down. When I do a traceroute (while the Network Ethernet is down) from Network 1 to Network 2, the route goes to Null 0. Since OSPF can't communicate with the other network traffic destined to the other network goes to Null0. However, BGP still has a valid "default route" to the internet. Also, please note that traffic originated from the internet and destined to other network, will reach the destination just fine.
The question is: What do I need to do so that I can still reach the other network from each location when the Metro Ethernet connection fails?
I can post configs if needed.
Thanks for your help
JB
1 ACCEPTED SOLUTION
Highlighted
Hall of Fame Guru
Mark as New

Bookmark

Subscribe

Mute

Email to a Friend
JB
Thanks for the additional information. I certainly understand that you need to perform some aggregation because you can not advertise anything smaller than /24 to your upstream. What I was trying to suggest is that there is more than one way to perform that aggregation.
1) use the aggregate address command. This produces a summary route and puts a null route into the routing table to protect against routing loops but it has the possibility to black hole traffic when the Metro E is not working.
2) use a static route for the summary. This produces a summary route and does not put a null route into the routing table. So it does not have potential to black hole traffic but does have potential for routing loops.
So there are pluses and minuses for each alternative. It is a tradeoff. You should choose which to use realizing the implications of the choice and selecting the one that you think is the best fit for your environment.
I am a bit puzzled at part of your response. You say that the addresses are not intermingled and each side has a unique set of addresses. But your post says that 1.1.1.0 is on one side and 1.1.2.0 is on the other side. To make things work you need to be able to advertise the individual /24. But you do not want BGP to advertise many /24 but to aggregate. That is why I suggest that a GRE tunnel would be a good solution to your issue. It would allow the individual sites to see details from the other site but would allow BGP to only advertise the summarized routes.
HTH
Rick
HTH

Rick