DR/BDR Election Process in Broadcast Network
Options
Mark as New

Bookmark

Subscribe

Mute
‎06-17-2021 09:52 AM - edited ‎06-17-2021 09:58 AM
I am tiring to understand OSPF DR/BDR election process in broadcast network. So I have check the behavior using following topology.
Now I am trying to restart all routers. Please note that I have filter R1 router packet to demonstrate. But all other Router Packet captures have same result.
As expected all routers advertise BDR/DR as 0.0.0.0 during the waiting time.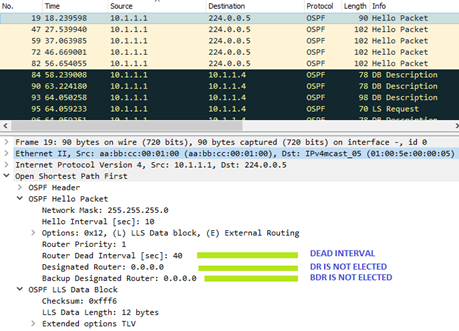 All routers (except DR) sending the first Hello packet after waiting time , listing elected DR IP address in both DR and BDR field.
Frist Hello packet send by the elected DR after the waiting interval has the correct BDR and DR field.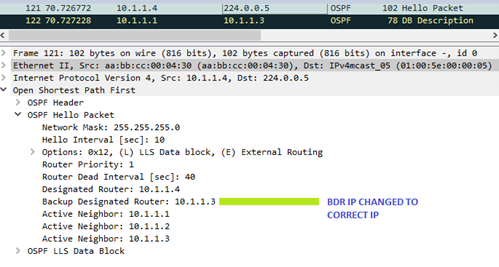 After that all other Routers list correct BDR and DR in Hello Packet.
Please help me to understand following observations.
1. Why all Routers (except DR) list elected DR IP in both BDR and DR field ?
2. Why only elected DR have correct DR and BDR fields in the first Hello after the waiting time ?
Thank you very much for your help ....
Manoj