Beginner
Mark as New

Bookmark

Subscribe

Mute

Email to a Friend
MPLS Option A | Packet loss on specific source IP?
---
Hi Guys,
I'm currently reviewing 1 issue and just want to seek your inputs about the current setup and the issue.
The setup is there are 2 ISP involve (back-to-back vrf exchange between ISPA and B), Now the issue here's is that when SIP: 192.168.100.1 pings x.x.x.169 of ISP A IP packet loss exist while no packet loss when pinging ISP B IP(x.x.x.170).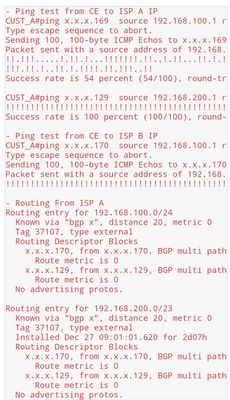 So I'm thinking this could be a circuit issue between 2 ISP but when I tried a different source IP noticed that there's no packet loss. Conduct a reachability from CE router block (192.168.100.0 & .200.0) towards to ISP B IP but unable to detected packet on both link facing ISP A. Also note that issue also happens on both ISP A link when CE pings sourcing to 192.168.100.x.
I do have access to ISP A and I'm thinking what could possibly go wrong. Let me know if I have missed.
no packet loss on ISP A to ISP B p2p ip addresses / no congestion.
Does the BGP multi path can affect the traffic ? (i believe should not affect since able to see the p2p and bgp peering's are stable).
No ACL or some sort of filtering applied on ISP A interface.
IPS/FW on customer side?
Thanks in advance

VIP Expert
Mark as New

Bookmark

Subscribe

Mute

Email to a Friend
Hello,
try and extended traceroute from the two different source IP addresses...is the path exactly the same ?

Rising star
Mark as New

Bookmark

Subscribe

Mute

Email to a Friend
AS I know the CE route is hidden from P inside Core and it appear only in PE.
so what are you missing here