Cisco Employee
Mark as New

Mark as Read

Bookmark

Subscribe

Email to a Friend
Telecom Asia has recently announced the winners of their 8th Readers' Choice & Innovation Awards. For the Cisco Mobility team it was a proud moment to receive the award for "NFV Innovation of the Year" for our Virtual Packet Core (VPC) solution.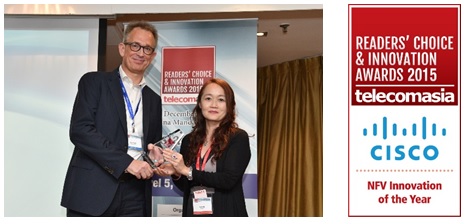 (Left) Dirk Wolter, Managing Director, Mobile Service Provider Architectures, APAC Region, Cisco Systems, receives the award from (right) Amelia Ng, Director, Business Strategy Planning and Alliance Partnerships, Singtel
As a reader's choice award it validates Cisco's industry innovation, as recognized by our harshest critics, our Service Provider (SP) customers. But more than just collecting an award for the mantelpiece (or a paperweight for Dirk!) what is important is the way innovations in NFV are translating into innovation for our SP customers' businesses.
We see Mobile NFV is now mature enough to start addressing real business requirements. The Cisco Virtual Packet Core (VPC) is already deployed, or being deployed, in more than 40 commercial networks. By transforming the network economics, it's enabling Service Providers to innovate, with new service and business models. The enablers come from 3 areas; first because of the reduced up-front CapEx creative opportunities for new revenue streams are being tested. Second by increasing time-to-market for new services and hence competitiveness, for example for MVNOs. And third around TCO reduction, from operational efficiencies and by allowing the network architecture to be optimized for transport, power and real-state OpEx. Below are some of the example use-cases for VPC seen so far.
Examples of Mobile Service and Business Innovation, enabled with Cisco Virtual Packet Core
For more on how we see the current state of Virtualisation in the APAC Mobile market you can join Dirk Wolter (MD of SP Mobile Architectures APAC) and Vish Iyer (MD of SP routing architecture) as they discuss where the new revenue opportunities lie for telcos, and how to formulate a winning network virtualization strategy.
Of course this is just the start of the NFV innovation coming from Cisco. Look out for more exciting developments and demonstrations coming up at MWC16, not just of technology, but also of business innovation.
You must be a registered user to add a comment. If you've already registered, sign in. Otherwise, register and sign in.