Understanding peculiar VTP behavior
Options
Mark as New

Bookmark

Subscribe

Mute
‎07-13-2019 08:42 AM - edited ‎07-13-2019 09:41 AM
I'm using GNS3 with VIRL images (vios_l2-adventerprisek9-m.vmdk.SSA.152-4.0.55.E). I'm trying to understand the behavior I'm seeing. It almost seems like it's a fluke with the emulation.
I've posted over in /r/ccnp (found here) and I've gotten a bit of clarity in the process from responses but still not 100% clear on the behavior.
The following is my topology...

All links between switches are set as static trunks. RSTP is deployed and DSW1 is the root. VTP settings on all devices are default, seen as such...
CSW1#sh vtp status
VTP Version capable             : 1 to 3
VTP version running             : 1
VTP Domain Name                 :
VTP Pruning Mode                : Disabled
VTP Traps Generation            : Disabled
Device ID                       : 0c46.12b5.2600
Configuration last modified by 0.0.0.0 at 0-0-00 00:00:00
Local updater ID is 0.0.0.0 (no valid interface found)

Feature VLAN:
--------------
VTP Operating Mode                : Server
Maximum VLANs supported locally   : 1005
Number of existing VLANs          : 5
Configuration Revision            : 0
MD5 digest                        : 0x57 0xCD 0x40 0x65 0x63 0x59 0x47 0xBD
                                    0x56 0x9D 0x4A 0x3E 0xA5 0x69 0x35 0xBC
What I've noticed is that I can jump onto ASW1 and change the VTP domain name and as a result, that will update the domain on the directly connected devices (DSW1 & DSW2), but only those devices (along with reporting "MD5 digest checksum mismatch" on those devices in the process). In my previous linked post, I had mentioned that this was observed when switching ASW1 to a VTP client and the changing the domain but I can confirm this same behavior is occurs when ASW1 is both a client and a server.
One of the responses I received prior explained the behavior as follows....
"The expected behavior is this: when you have two connected switches in VTP server mode and a null domain, and you set the domain name on one of them, it will propagate to the other. This is why you saw the change occur in DSW1 and DSW2, as they're both connected to ASW1 via trunks.
The VTP update frames use the CDP destination MAC (01-00-00-cc-cc-cc) which doesn't flood."
First off, I previously mentioned this behavior is seen when ASW1 is a client or server. Still this begins to explain the issue. However it leaves me questioning why the behavior isn't the same for all devices? When thinking about the flow...
Update domain on ASW1 -> VTP advertisement frame is sent out to directly connected neighbors
If the above is true, I understand the VTP update frame isn't a flood. However, why does that flow not start over again on the DSW devices where they create their own advertisements after being updated?
The DSW1 device does not propagate it's own advertisement after the update. I took a packet capture to verify this. (The following confirms the active links that I was capturing on).
ASW1#sh spanning-tree | sec Gi0/0
Gi0/0               Root FWD 4         128.1    Shr

CSW1#sh spanning-tree | sec Gi1/2
Gi1/2               Root FWD 4         128.7    Shr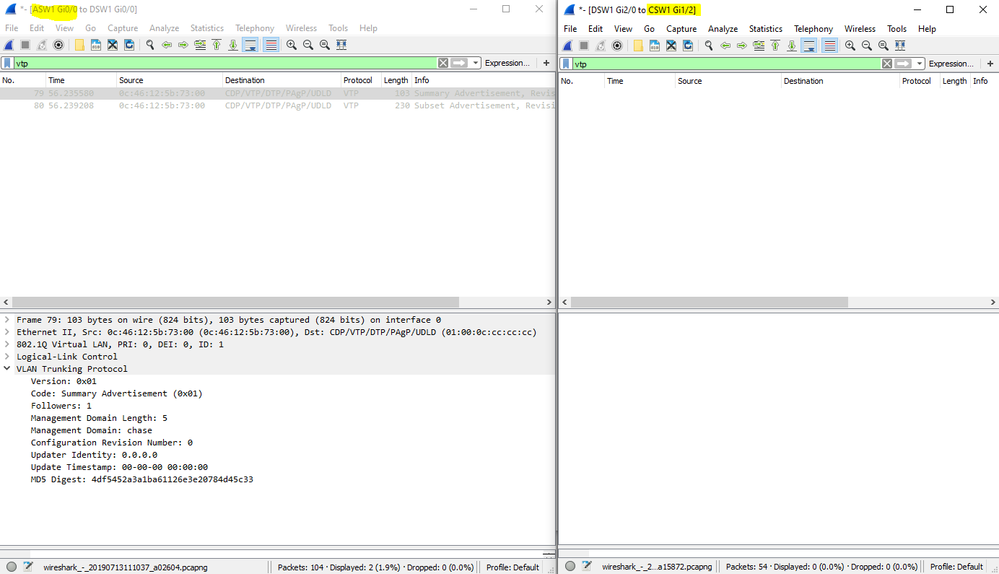 Another thing that throws me off is the revision number stays 0 in this advertisement. I was under the assumption that devices should only update when the revision number increases. Is this not true with a domain update?
Also, one final question. For the ASW1/DSW2 link, both the ports on DSW2 are blocking. DSW2 still receives and accepts the VTP advertisements over these ports. I know STP blocking is technically not fully blocking and more referencing blocking of actual data. Is this expected behavior as well?
UPDATE: Okay so it appears what happens is that when I change the domain on ASW1, a VTP advertisement is sent out immediately and DSW1/2 take it. However the same behavior is slightly different on DSW1/2 as it doesn't send out a VTP update to their neighbors until the 300 second default timer is met.
I've also noticed that if I change the VTP password first on ASW1 before any other VTP changes are made, all the other devices do eventually end up taking the new domain. They don't get the updated password and as a result VLANs are not propagated. This still seems wonky, is this to be expected?