VLAN under a budget (2960s), phisically and logically
Options
Mark as New

Bookmark

Subscribe

Mute

Email to a Friend
‎05-25-2021 11:00 AM
Hi all, I have been reading some of the answers to a similar question regarding vlans on the same subnet.
Apparently it "may be" possible under some circumstances. Let me explain you my network:
I have this network: 192.168.1.0/23, where the dhcp appliance is 192.168.1.1 (a tplink load balancer router firewall thingy) with a pool of 192.168.0.x to 192.168.0.1xx.
That dhcp pool is for guest devices, my small office devices are on the 192.1681.x side of the network using the same appliance to reserve those ip's. Right now we just have hubs, no vlans, all mixed and we want to have some order and security (finally after 4 year, management decided to give me some budget, not much but something).
What I was able to source were some 2960's 48P and WS2980 24P for the task, with the budget is what I could get, sorry.
To avoid many word, a image of what I have and what I would like to accomplish: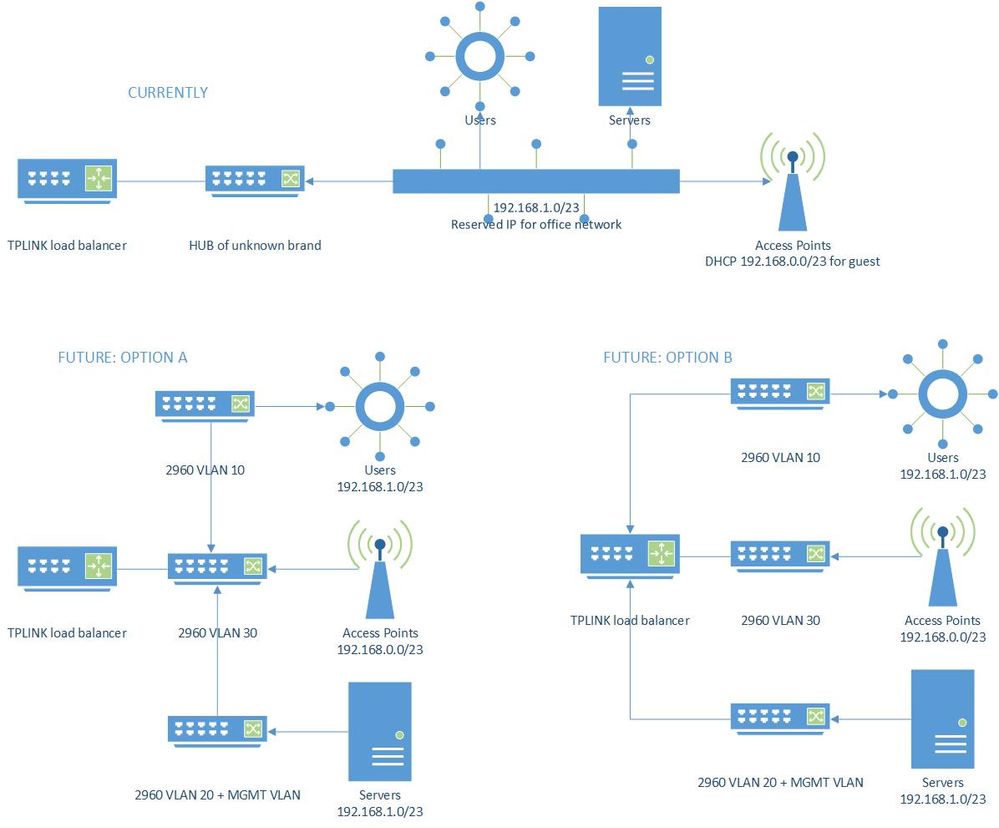 I hope it shows
Now, the requirements:
VLAN10 should have internet access and be isolated from the rest, the ws2960 will power some poe access points for the wireless devices, nothing fancy, just internet access is all they need.
VLAN20 and 30 may communicate, also have internet access.
Further VLANs (maybe one or two more; for IP cameras and another devices that are in another building but want to have them on their own switch because cabling budget is tight) will be in that same subnet, since the dhcp device does not offer multi-nat, and static ip's will be a paint to manage.


The future, is all goes good would be to migrate the dhcp to a windows server and then I would be able to create more networks, but right now my hands are tied.
The desired outcome:
Separate the guest from the office, and have a little more network privacy and security. Yes, I'm slowly walking with management to get them into the new era band wagon.
So, what do you think? is it possible? from the course I have seen with cisco, I can picture option a, but with option b I'm still waiting for an answer from the manufacturer to see if it is possible. Now, I said I can picture it, but don't know if it would be possible.