Cisco Employee
Mark as New

Mark as Read

Bookmark

Subscribe

Email to a Friend
Adopt the Power of Unification, Innovation, and Security with UCS Manager 3.1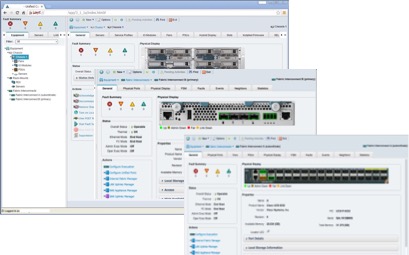 Cisco is pleased to announce the release of the next version of UCS Manager, UCS Manager 3.1(1e). It is now available for download on Cisco.com.
UCS Manager 3.1 Key Enhancements
UCS Manager 3.1(1) has a number of key updates. These include:
Unified Release for 6200 series, 6324, and 6332 series Fabric Interconnects
HTML 5 based User Interface
"On Next Reboot" Maintenance Policy
VIF/interface status check after firmware upgrade reboot
Option to exclude specific server components from host firmware packages
Support for 6332 series Fabric Interconnects including 40Gb Ethernet and 16 Gb Fibre Channel support
Support for M-Series cartridges with Intel Xeon E3 v4 Processors
Support for a second chassis in a UCS Mini configuration
Support for NVIDIA M6 (B-Series) and M60 (C-Series) GPUs
Support for the Magma PCIe Expansion Chassis with K1, K2, K40 and K80 GPUs
Support for PCIe Based Storage Accelerators
Support for an Intel Crypto Card when used with MITG software
And much more
This will allow UCS customers to simplify their UCS environment will support for UCS Mini, M-Series, and classic UCS platforms in the same UCS Manager release. In addition, it provides support for the latest Fabric Interconnect technology allowing 40 Gb Ethernet and 16 Gb Fibre Channel to increase networking speed in the data center. Finally, there multiple hardware options allow customers to use their environments for additional workloads.
There are additional new features, not all of which may be noted here. Please be aware that as we have been communicating in the past, this is the first major release to drop support for older UCS hardware such as first generation servers and Fabric Interconnects. For the most detailed information, please see the UCS Manager 3.1(1) Release Notes.
HTML 5 User Interface
UCS Manager first released a HTML 5 User Interface with UCS Manager 3.0(2) for UCS Mini. UCS Manager 3.1(1) brings that user interface to all UCS Manager 3.1 supported platforms. The look and feel of the interface is almost the same as with the Java interface to make it easy to transition for existing customers. While UCS Manager and the UCS KVM Manager are both HTML 5 based, the KVM client still requires a Java client. Finally, the Java client for UCS Manager and the UCS KVM Manager are also still available.
On Next Reboot Maintenance Policy
Another customer requested user enhancement is for a new UCS maintenance policy called On Next Reboot. In the past, UCS Manager has supported User Acknowledgement, Scheduled, and Immediate maintenance policies. The On Next Reboot policy allows the UCS Manager server administrator to prepare a change that requires a server reboot – such as a firmware update – but not have to do the user acknowledgement and manually trigger the server reboot. Instead, UCS Manager waits until the server OS or Hypervisor reboots. That reboot would be triggered externally, such as by an Operating System administrator during their maintenance activities. When the OS reboots, the UCS changes, such as the firmware update, would take effect.
Additional Hardware Support
Among the many other things supported in UCS Manager 3.1(1) is support for a lot of additional hardware. This includes support for a number of server accessories including additional GPU and Flash Storage devices. More information is available in the announcement blog on Cisco.com
Release Availability
UCS Manager 3.1(1e) is now available for download on Cisco.com.
Key release information for UCS Manager 3.1(1) includes:
UCS Manager Release Bundle Contents
Finally, if you are at Cisco Live in Berlin, please come by the UCS demo to get more information.
You must be a registered user to add a comment. If you've already registered, sign in. Otherwise, register and sign in.