Cisco Employee
Mark as New

Mark as Read

Bookmark

Subscribe

Email to a Friend
Improve your UCS Management at scale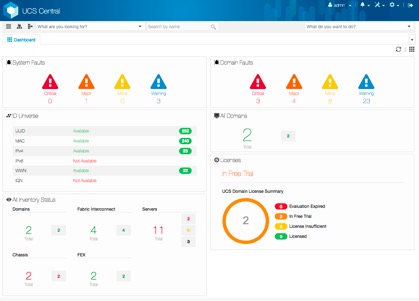 In December 2015, Cisco released UCS Central Software 1.4 Release. It is available for download on Cisco's website. There are many enhancements to this release of the manager of UCS Managers.
There are 4 key areas of improvements in this release. They include:
• Enhancements to the HTML 5 User Interface, including making it the default user interface
• Support for new hardware including the

UCS 6332 Fabric Interconnects

• Support for Cisco Smart Licensing including a per server licensing model
• Many policy enhancements including centralized configuration of Fabric Interconnects and support for many additional policies.
All of this can be done while managing 10,000 UCS servers from a single IP address, giving you policy-based management at scale. As always, additional details on the features and other release details are available in the UCS Central 1.4 Release Notes.
These enhancements provide customers with an enhanced user experience that was designed to better manage large numbers of servers at scale. It also supports the latest hardware options and UCS Fabric Interconnects allowing customers to get the highest levels of performance from their environment.
HTML5 User Interface Improvements
UCS Central 1.3 introduced a new search and task based interface. We had plans to continuing development beyond that first release and also got great customer feedback for additional enhancements and improvements that were implemented in UCS Central 1.4. The result is that the HTML 5 User interface is now the default interface for UCS Central. The older Flash-based user interface is still available, but is being deprecated and did not get any of the new features introduced into UCS Central 1.4.
Enhancements and new features in the UCS Central 1.4 HTML 5 User Interface include:
Support for vNIC and vHBA templates in addition to LAN Connection Policies and SAN connection policies, a significant restriction in the HTML 5 interface in UCS Central 1.3.
• Many new and improved dashboard widgets including a new Getting Started widget and a new Inventory Status widget
• A KVM Unified Launcher and a KVM User role
• Improved Table Export capabilities
• Improved management of multiple vLAN permissions
• Visibility of UCS Manager FSM information in the UCS Central interface
• And much more.
With the enhancements to the user interface, it will make it easier for both existing and new users to manage their UCS multi-domain environments at scale.
New Hardware Support
UCS Central 1.4 was pre-enabled to support UCS Manager 3.1(1), release in January 2016. That includes support for the new Third Generation Fabric Interconnect infrastructure including UCS 6332 Fabric Interconnects, 2304 IO Modules, additional VIC adaptors, and more. This allows user to support the latest enhancements to get the highest levels of performance in their environment, enabling additional workloads.
Cisco Smart Licensing
Since UCS Central 1.1, UCS Central has been licensed on a per UCS domain basis. Starting in UCS Central 1.4, customers have the option to license UCS Central 1.4 through either a per domain license or through per server licensing using Cisco Smart Licensing. For customers who want to move to per server licensing, there is a method to convert your per domain licenses to per server licenses through the Cisco Smart Licensing portal. This allows customers to select the optimal licensing model for their environment.
Policy and Configuration Enhancements
The fourth major area of improvements in UCS Central 1.4 is around policy and configuration enhancements. This includes the ability to configure Fabric Interconnect ports and related policies from UCS Central 1.4. In addition, there is support for many additional policies including policies such as equipment tab policies, adapter policies, advanced host firmware packs, vNIC policies, PVLAN, and improved storage profile support.
Finally, there are a number of new features to address customer requests. These include Smart Call Home support, SNMP alerts, RADIUS and TACACS support, direct attach storage support, and pre-enabled support for the UCS 6332 Fabric Interconnects. This allows customers who use any of these features in UCS Manager to fully transition to UCS Central in a multi-domain environment.
While this is a great summary of the new features in UCS Central 1.4, there is a lot more features and details of those features. One of the great places to check out additional features is the UCS Central 1.4 Release Notes.
UCS Central 1.4 Release Availability
The release is now available for download on Cisco.com. For existing customers, upgrades are simple. Download the ISO format, reboot the UCS Central virtual machine with the downloaded ISO image, select upgrade, and a few minutes later, the upgrade is finished.
Finally, if you want to learn more about UCS Central, you can find great UCS Central labs on Cisco's dCloud environment.
We think that UCS Central 1.4 is a great release for existing UCS Central customers as well as for customers who are looking to add multi-domain management to their existing UCS environment.
Finally, if you are Cisco Live in Berlin during February, please come by the Cisco booth to get more details on UCS.

You must be a registered user to add a comment. If you've already registered, sign in. Otherwise, register and sign in.