Cisco Employee
Mark as New

Mark as Read

Bookmark

Subscribe

Email to a Friend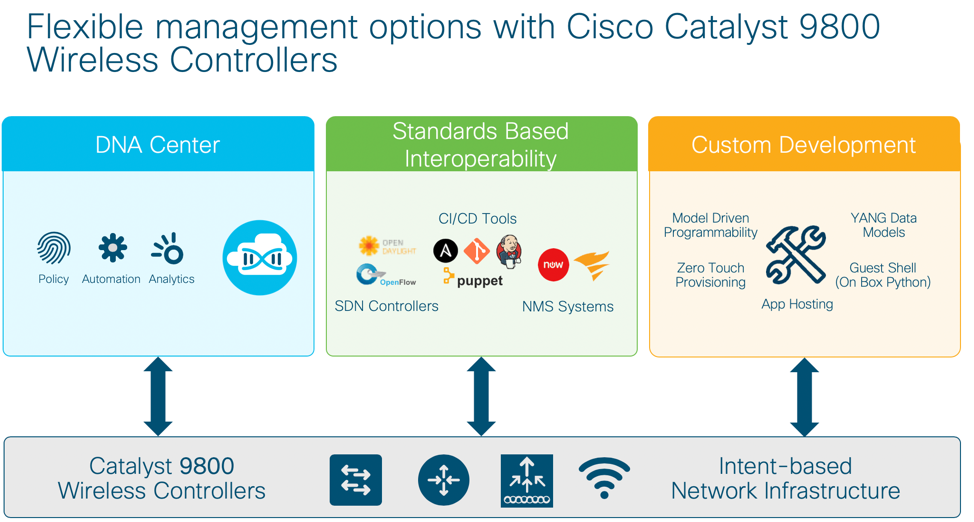 As a network administrator keeping up with the methods of today is more challenging, and not relying solely on traditional ways of configuration and management is demanding. APIs have become a buzz word, and supporting it shows that your device is next-gen. But in reality, APIs only work at the application layer; as network engineers we are more interested in looking at what's cooking and what we need to cook at Network Layer. So NETCONF/YANG and Open Config, working at the Network Layer, become a necessity to achieve programmability and telemetry and provide a true next-gen wireless controller. In addition to these methods, getting consistent data flow information is very essential for better visibility and on-box Python which enables scripting on the device itself.
Cisco Catalyst 9800 Wireless Controller apart from blending Cisco network leadership with Cisco RF innovation is built on top of Cisco IOS XE - open and flexible operating system optimized for a new era of enterprise networks. With Catalyst 9800 running Cisco IOS XE helps reducing complexity related to business and network allowing customers to qualify and deploy new services faster.
Miercom was engaged in independently assessing Cisco's next-generation enterprise wireless architecture, with Catalyst 9800, alongside the latest competitive offerings of Hewlett Packard Enterprise (HPE-Aruba), Ruckus and Huawei Technologies focusing on aspects such as high availability offering a consistent performance, flexibility in terms of deployment (physical or virtual), ease of use & comprehensive security with unbeatable programmability and telemetry using popular standard models (YANG, NETCONF, RESTCONF) and on-box Python scripting for fulfilling the needs of next generation wireless campus
Cisco Catalyst 9800 wireless controller proved to be miles ahead in the race over the competitor offerings, in terms of High Availability, Security, Deployment Flexibility. The key thing was to assess the true next-generation wireless capability by supporting the modern methods of data extraction and configuration on devices. Touching the programmability aspect both at the application and the network layer is the basic necessity to sustain the claim of next-generation wireless architecture and Cisco Catalyst 9800 turned out, as expected, to be a clear winner in terms of providing a fully-loaded ammunition for open and programmable infrastructure.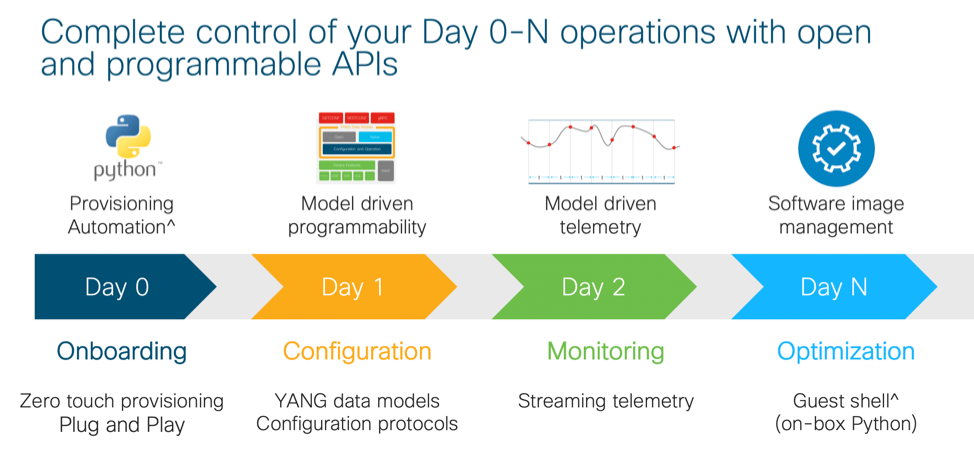 Miercom found out that Aruba supports XML/RESTful API, Ruckus supports RESTful API and Huawei supports limited APIs; none of the vendors supported YANG/NETCONF models or on-box python making Cisco Catalyst 9800 unbeatable, supporting YANG and NETCONF/RESTCONF, along with traditional APIs, and on-box Python scripting.
Miercom verified that for security and traffic modelling, competitor offering samples traffic to be captured using sFlow which collects at best one or two of 100 packets while still being subject to false alarms, blurred analysis and missed packets. Full NetFlow offered by Cisco allows monitoring 100% of packet flow through hardware without impacting performance and enabling traffic monitoring & analysis at a very granular level.
Cisco Catalyst 9800 wireless controllers are built on Cisco IOS XE operating system which offers a rich set of open standards based programmable APIs and model driven telemetry that provide an easy way to automate day 0-N network operations. Model-driven streaming telemetry provides deep insights into your network and client health.
Miercom report proves that Cisco does not compromise at all to offer a robust next-generation wireless network infrastructure with purpose-built high availability, unmatchable security, deployment flexibility and on top of it - the power of programmability with open standard based models.
Cisco Catalyst 9800 Series wireless controllers makes a complete package of being always on and secure while at the same time proving that there's more to programmability than just the equation "Programmability=API".
Please download complete Miercom report here.
You must be a registered user to add a comment. If you've already registered, sign in. Otherwise, register and sign in.