Cisco Employee
Mark as New

Mark as Read

Bookmark

Subscribe

Email to a Friend
The Cisco Connected Mobile Experiences (Cisco CMX) release 10.2 posted on CCO last week supports new Analytics features. The Analytics service provides a set of data analytic tools for analyzing Wi-Fi device locations. Further, it helps organizations use the network as a data source to view visitors' behavior patterns and trends, which will in turn help businesses improve visitor experience and boost customer service.
The holiday season is upon us and the new Analytics widget Associated Status would help me as a Mall operator find the total number of visitors, how many are carrying smart mobile devices and how many devices are connected at any location level – Campus, Building, Floor, Zone, or By Hour.
Knowing the number of connected visitors can help businesses find out if offering Wi-Fi in the branch is attracting more visitors and increasing foot traffic, eventually resulting in increased sales.
We setup an Associated Status Widget that shows the data of this week in campus at Mall. The widget displays a detailed summary of the 20% of mobile devices that are associated with Wi-Fi and the 76% mobile devices that are probing the network. Shown in the default summary view format above, compare data from this week to last week with Hourly Trend charts.
"As a mall operator, I like to see which hallways get more visitors in scheduled reports so that I can price my mall accordingly."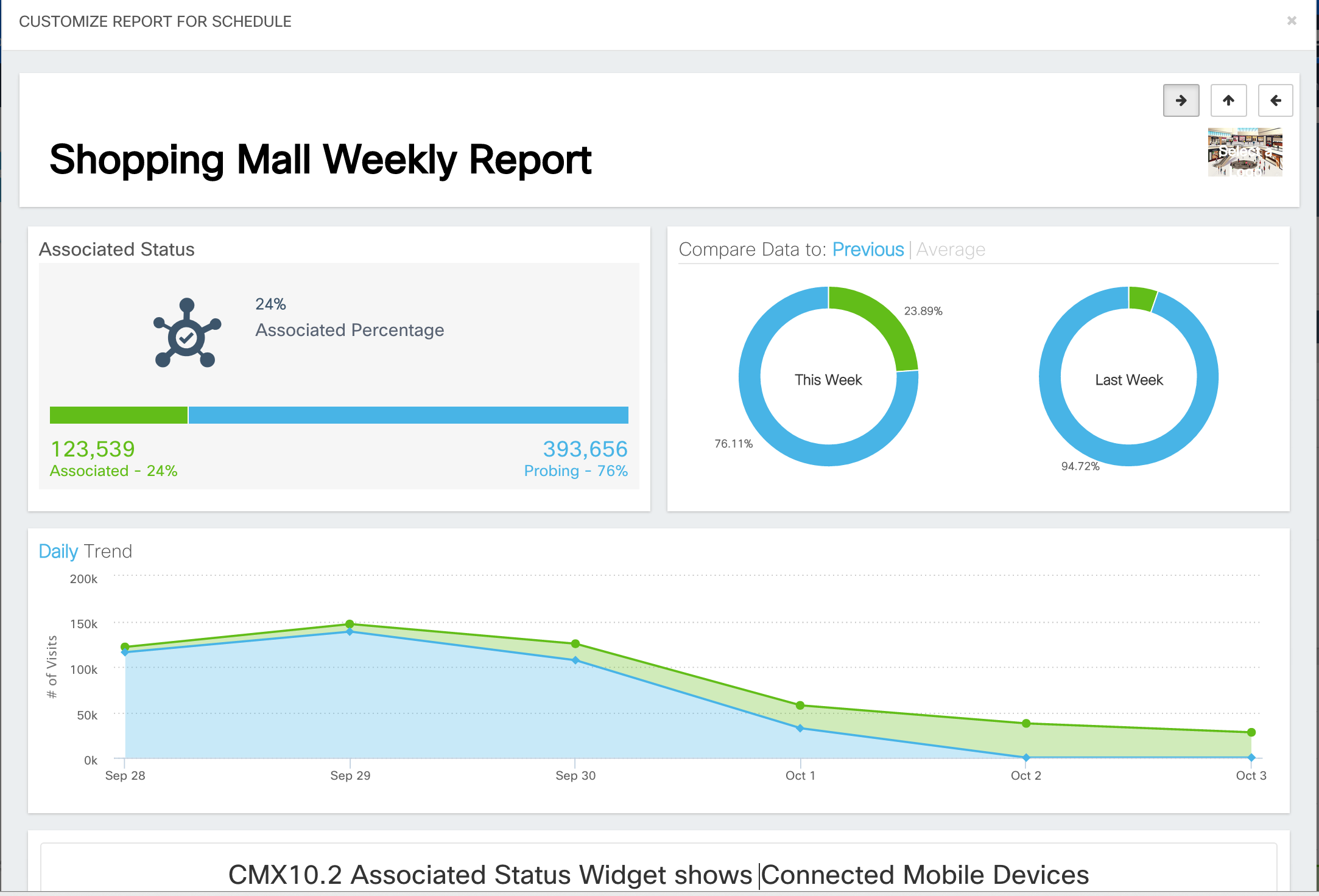 Cisco CMX can provide the precise data mall operators need to make informed decisions. The mall operator can create a report using CMX Analytics to determine shoppers visiting each section of the mall on daily/weekly/monthly basis and schedule a PDF report that can be sent on periodic basis to observe the shoppers traffic patterns.
You must be a registered user to add a comment. If you've already registered, sign in. Otherwise, register and sign in.