Cisco Employee
Mark as New

Mark as Read

Bookmark

Subscribe

Email to a Friend
According to a U.S. Travel Association report, Direct spending on business travel by domestic and international travelers, including expenditures on meetings, events and incentive programs (ME&I), totaled $296.3 billion in 2015.
In a 2014 survey conducted by Fortune Magazine and Travel + Leisure, 55 percent of the business travelers polled listed free Wi-Fi as their most valued amenity, and those surveyed in the GBT survey ranked free Wi-Fi as the second most important factor when selecting a hotel for a business trip.
While traveling for the work, employees are expected to work even if it's from a hotel room. Savvy hotels are responding by adapting their guest rooms, meeting spaces, lobbies and front desks to today's technology advance to win customer loyalty. The changes are improving the guest experience as well as making hotels more inviting to travelers who see technology as an essential part of their lives.
A great example of this can be seen with the Santa Clara Hyatt Regency in California where 15-20% increase is seen in non-room revenues.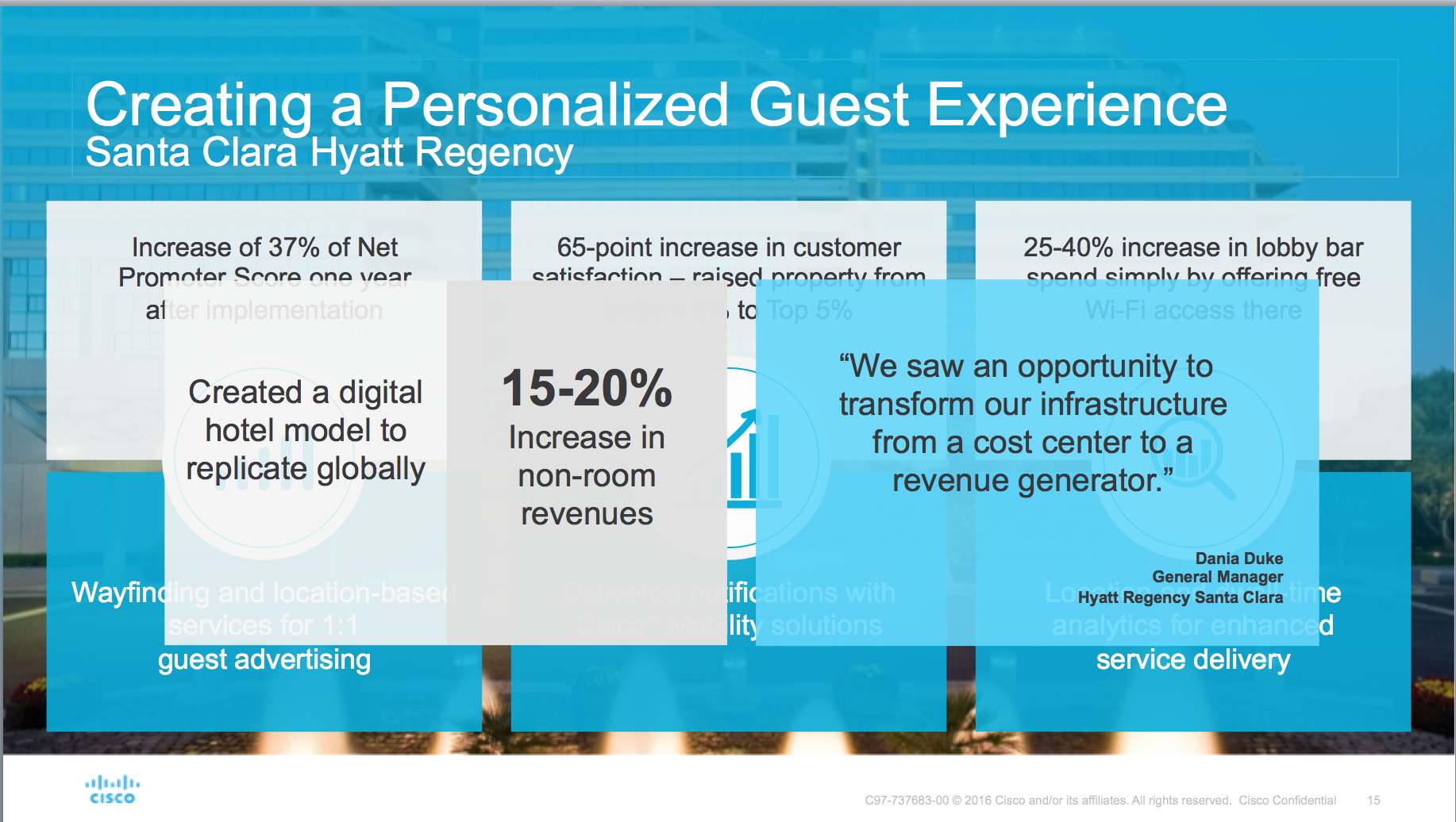 Using the Cisco CMX Cloud Connect Sponsor portal, sponsors can create and manage temporary accounts for authorized visitors to securely access the corporate network or the Internet. After creating a guest account, sponsors also can use the sponsor portal to provide account details to the guest by printing, emailing, or texting. Before providing self-registering guests access to the company network, sponsors may be requested via email to approve their guests' accounts.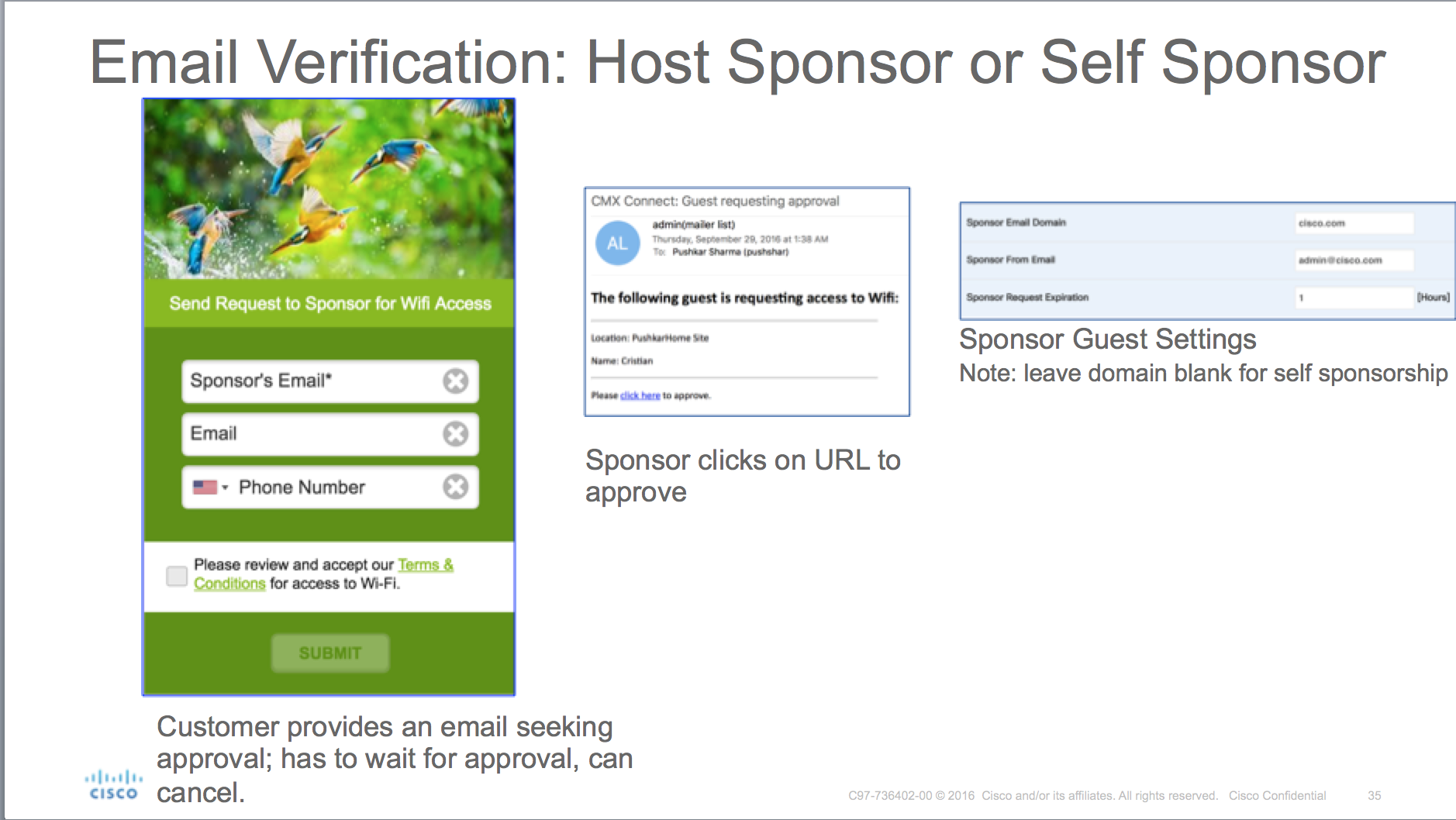 Hosting a large conference at Hotel? CMX Cloud Connect provides a new authentication path through CMX Cloud Connect Vouchers in bulk. As an administrator, you can generate up to 100 unique voucher keys at one time. You can email or print the set of vouchers and distribute for use. Each CMX Connect Voucher key can only be used once. After the Voucher key is used, it becomes invalid. You can also specify a valid date range when a voucher is initially created.
As more travelers conduct their business (and plan leisure activities) on an array of devices — laptops, tablets, smartphones — the limited amount of bandwidth a hotel has to offer can become a problem.
CMX Connect provides new ways to limit guest access through CMX Connect Custom Policy. As an administrator, you can now customize policy plans with bandwidth and access duration limits. With custom policies, bandwidth and access duration limitations can be applied on a global or down to the Site level. Both bandwidth download and upload speeds can be configured in units of kbps (kilobits per second), and access duration in units of minutes.
In summary, Connect Sponsor portal, Cloud Connect Vouchers and Connect Custom Policy are three of many Swiss army knife features of CMX Cloud Connect, which cumulatively help boost Hospitality business.
What do you think? I would love to hear your opinions and use cases. Please leave a comment to add your thoughts or ask questions.
You must be a registered user to add a comment. If you've already registered, sign in. Otherwise, register and sign in.