Community Manager
Mark as New

Mark as Read

Bookmark

Subscribe

Email to a Friend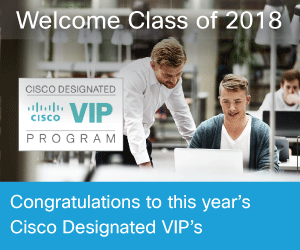 Congratulations!
We are excited to announce the 2018 Cisco Designated VIP class for the Cisco Support Community.
The Cisco Designated VIP program recognizes the top external individual contributors in Cisco's online communities, including the Cisco Support Community and the Cisco Learning Network.
Cisco Designated VIPs are recognized by their peers and the industry for their expertise and tireless contributions, and their abundant participation is vital to community success.
Heartfelt congratulations to these Cisco technology industry leaders!
Thank you to all the 2017 Cisco Designated VIPs for all their contributions last year. We appreciate all your contributions regardless of the VIP status. You are the soul of the Community and thanks to your knowledge sharing, this community continues to thrive.
- Cisco Support Community Team
Cisco Support Community VIPs
This distinction is only given to a select group of Cisco customers & partners & guest community members, based on many factors in the program. We are so grateful of the extensive community involvement of these highly respected technology experts. Consider viewing their profiles and "following" their posts to grow your knowledge.
IP Telephony

LAN

IP Telephony, Contact Center

Small Busines

Wireless, Spanish

WAN, Spanish

Wireless, Portuguese

LAN, WAN

LAN, WAN

Contact Center, IP Telephony

LAN, WAN, Spanish

Leo Laohoo

WAN, Wireless, LAN

LAN

Firewalling, FirePower, VPN

IP Telephony

TelePresence

LAN, WAN

LAN, WAN, VPN

VPN, Firewalling, AAA

Wireless

LAN

LAN, WAN

IP Telephony

Wireless

Wireless

IP Telephony

TelePresence

Hall of Fame

N New VIP
VIP Class of 2017 Announcement
Cisco Learning Network VIPs
7 Comments
You must be a registered user to add a comment. If you've already registered, sign in. Otherwise, register and sign in.