Options
Mark as New

Mark as Read

Bookmark

Subscribe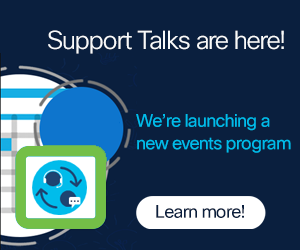 Would you like the ability to handle your support complexities easier and faster?
Cisco Community introduces a new program called Support Talks. The program features a set of series with different sessions. Each series in the program will guide you through tools, technologies and solutions designed to help you reduce the time and resources needed to optimize your Cisco solutions and to troubleshoot your product issues.
Each session will introduce the asset, its usage, benefits, and best practices. In addition, Support Talks sessions are live, and you can have your questions answered in real time.
With multiple series such as:
TAC Tools Explained (Starting on November 19th!)

Cisco Support Explained

Upgrading Software: A Walk Through

What's coming?
All Support Talks will be featured on a monthly basis every Thursday at 9:30 am US Pacific time (utc-7). The sessions will be recorded and available in Cisco Community for on-demand viewing. Registration is required to attend a session.
We want to help you save time for your team and your core business. Look for the chance to register for the first session in November!
FAQ regarding the new program
When does the new Support Talks program start?
Support Talks kicks off in mid-November, starting with the TAC Tools Explain Series. All Community members are invited to participate. Register for the upcoming sessions at the "Events" section.
How can I participate on these events?
To participate in any of the upcoming "Support Talks" events, please click on "Events" in Cisco Community and select the session you are interested in. Once you're there, click on the "Register Today" button at the top/end of the page and fill out the details. When you complete the registration form, you will receive a confirmation email. Don't forget to add the invitation to your calendar so you don't miss the event.
5 Comments
You must be a registered user to add a comment. If you've already registered, sign in. Otherwise, register and sign in.