Options
Mark as New

Mark as Read

Bookmark

Subscribe

Email to a Friend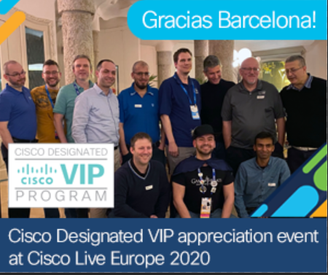 I was very happy to organize the Cisco Designated VIP dinner at Cisco Live Barcelona once again. I hope you all had an amazing time. Thank you all for making the effort to attend. The appreciation dinner took place at iconic Catalonian Cafe La Pedrera located in one of Gaudi's buildings, Casa Milà. We were able to break the record once more as this has been the largest Cisco Designated VIP gathering in Europe since we started the program. This year we had 21 attendees.
We had Community Hall of Fame members Peter Paluch and Guiseppe Larosa. Cisco Community VIPs Mohammed Al Baqari, Marius Gunnerud, Sandeep Choudhary, Marvin Rhoads Giorgios Sotiropoulos, Sergey Lisitsin, and Karsten Iwen; and Cisco Learning VIPs David Peñaloza, Juan Garcia, and Daniel Larsson. From the Cisco Side we had, from Cisco Community Dir. Monica Koedel, Sr. Mgr. Joann Hartman, Denise Brittin, Ashley Harrington, Kelli Glass, and Kelsy ibshraeny, and from Cisco Learning Dir. Makarand Chitale and Karlo Bobiles Rigo. We missed Hall of Fame Joe Clarke who could not make it.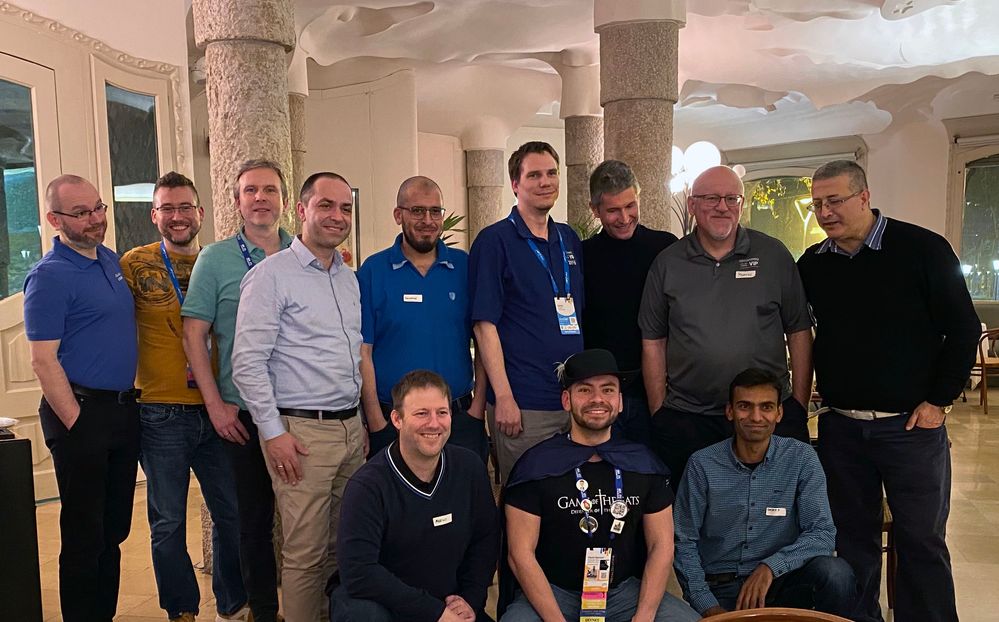 VIPs and Hall of Fame members: Top from left to right: Peter Paluch, Sergey Lisitsin, Karsten Iwen, George Sotiropoulos, Mohammed Al Baqari, Daniel Larsson, Juan Garcia, Marvin Rhoads, Giuseppe Larosa. Bottom: Marius Gunnerud, David Penaloza, Sandeep Choudahari
Here are all the dinner attendees.
You might wonder about the menu. Well, it started with the Iberic Ham with tomato bread, anchovies, potatos and piquillo pepers, Vichysoisse with smoked sardine, grape and creamy tartar sauce then hake or round beef. For desert there was the Lemon Pie. The wines were catalonian wines.
Once again we at Cisco continue to be amazed with the enthusiasm and loyalty to Cisco products, solutions and services from all the VIPs and Hall of Fame members. Your contributions to Cisco Community are invaluable and we all know that Cisco Community would not have been where we are today if we didn't have your dedication and avid participation.
The dinner could not be complete without the traditional raffle. This time we had three prices: The Temperature Control Smart Mug, the Bose quiet comfort headset, and the Bose SoundSport wireless Headphones . The three lucky winners were Guiuseppe Larosa, Juan Garcia, and once more, David Peñaloza. Congratulations!
5 Comments
You must be a registered user to add a comment. If you've already registered, sign in. Otherwise, register and sign in.