Highlighted
Beginner
Mark as New

Bookmark

Subscribe

Mute

Email to a Friend
Jabber does not show company?!?
Hello,
i´m configuring Jabber4W and an Estos Meta Directory. The search for Users works, but Jabber does not show the company. If i run whireshark, Jabber "asks" for company and gets an answer from Meta-Directory, but if i rightclick on a contact, there is no company shown.
Another thing is that when i search user with the company-name, Jabber shows up the Users.
This is a part of my config-file:
<Directory>
<DirectoryServerType>EDI</DirectoryServerType>
<PrimaryServerName>x.x.x.x</PrimaryServerName>
<ServerPort1>x</ServerPort1>
<UseWindowsCredentials>0</UseWindowsCredentials>
<UseWildcards>0</UseWildcards>
<BaseFilter>(&amp;(objectClass=*))</BaseFilter>
<PredictiveSearchFilter>cn,sn,company</PredictiveSearchFilter>
<UserAccountName>cn</UserAccountName>
<CompanyName>company</CompanyName>
<DisplayName>mail</DisplayName>
<SearchBase1>ou=xxxx,dc=xxxx</SearchBase1>
<SearchBase2>ou=xxx,dc=xxx</SearchBase2>
</Directory>
This is what Jabber shows: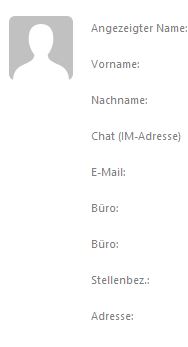 And another thing:
The Chat adress is build from "predicitveSearchFilter" + domain.
For Example: Michael meier@domain.com
But i cannot change the predictivesearchfilter, can i configura jabber to use sn for Chat-Adress?
Thanks for your help