Options
Mark as New

Mark as Read

Bookmark

Subscribe
‎01-24-2014 04:42 AM - edited ‎03-12-2019 10:07 AM
Introduction
This document covers the procedure on how to configure the custom alerts and setup email notification in Real-Time Monitoring Tool (RTMT)
Configuration
Real-Time Monitoring Tool is the ability for the tool to send e-mails when an alert is triggered. In this example we will see how to set up a simple alert, which sends an e-mail when less than 5 MTP resources are available to the helpdesk recipients.
Perform the following procedure to configure e-mail information for alert notification. As a prerequisite for email alerts make sure you configure the email server.
Procedure
1. Log in RTMT Tool
2. Add the performance counter you want to create an alert in the monitoring page
Choose System > Performance > Open Performance
3. Add the Resource Available counter from Cisco MTP Device from the Tree
4. Specify an Instance/ Device to monitor - Double-click it to monitor the counter
5. Add the counter and then configure the alerts by right-clicking the counter and Selecting Set Alert/Properties
6. Alert Properties: General window will open
Check the "Enable Alert" checkbox
Specify, Severity : Warning
Specify, Description for the alert as "Available MTP resources" and
Specify, Recommended action
7. Click Next
8. Next comes the Threshold & Duration Window - Specify the threshold Value
Specify Threshold: Trigger alert when following condition is met as : Under 5 (as per requirement)
Specify, Value Calculated As : Absolute (as per requirement)
Duration : Trigger alert only when value constantly below or over threshold for 60 seconds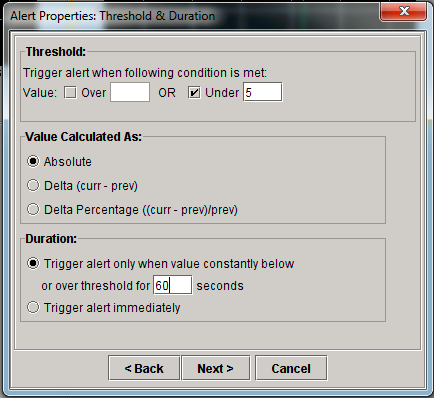 9. Click Next
10. Frequency & Schedule window will appear
11. Select the Frequency and Schedule
Frequency : Trigger alert on every poll
Schedule : Trigger Alert everyday (Scheduled Monitoring between)
- Mention the Start Time and End Time
12. Click Next
13. Finally Email Notification window will appear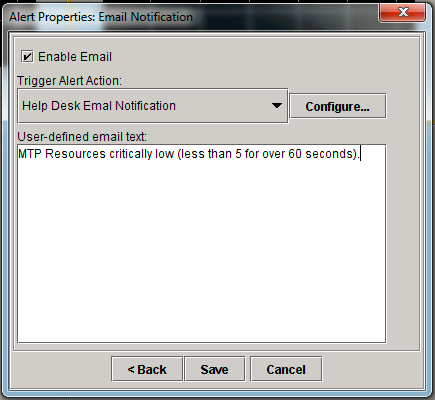 Check "Enable email" checkbox
Mention the "User-defined email text" to be mailed while triggering the alert

14. Select the "Trigger Alert Action" from the drop-down
-- This specify the list of users who shall receive an alert e-mail.
1. On "Alert Properties: Email Notification" Window
choose > Trigger Alert Action > Click Configure
2. "Alert Action" Window will open. Click > Add
3. "Action Configuration" window will open
Specify a Name, Description of the action
Add a recipient by Clicking Add
When the new window appears, enter an email address in "Enter email/epage address field"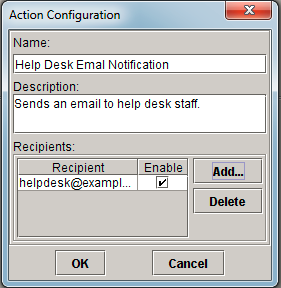 4. Click Ok
- Repeat this for adding each recipient

15. Click Save
Related Information