edited on:

‎03-12-2019

‎10:15 AM
Introduction
This document covers the procedure for configuring Managed File Transfer in Cisco Unified CM IM and Presence.

Cisco Jabber 10.6 clients and Cisco Unified Communications Manager IM and Presence Service 10.5(2) server introduce file transfer compliance and policy options for file transfer and screen capture.
What is Managed File transfer ?
Managed File Transfer is a server-side file transfer solution.
MFT allows an IM and Presence service client, such as Cisco Jabber to transfer files to other users, ad hoc group chats and persistent chat.
Allows file sharing between users in one-one, ad hoc group, and persistent chat
File repository is on a customer-provided external file server
Audit logging of all uploads and downloads in external database

Prerequisite:
Jabber 10.6
CUCM IM/Presnece 10.5.2
PostgreSQL, version 8.3.x trough 9.1.1
While transferring files between Jabber clients has been a supported feature for quite a while, this was limited to peer-peer
transaction until now, which eliminated the possibility to transfer files in a group chats, chat rooms.
Starting with Jabber 10.6 and CUCM IM/Presence 10.5.2, a new method to transfer files between clients has been introduced with the following features,
Group chat support of File transfer
Chat room support of File transfer
Admin can define a file size for Jabber users when transferring files
File transfer compliance and screen captures are transferred for audit and policy control
File transfer inline status message
This refers to "Managed File transfer". While the peer-peer option does not involve any central instance, the Managed File transfer does
rely on central database instance.
File Transfer - Call flow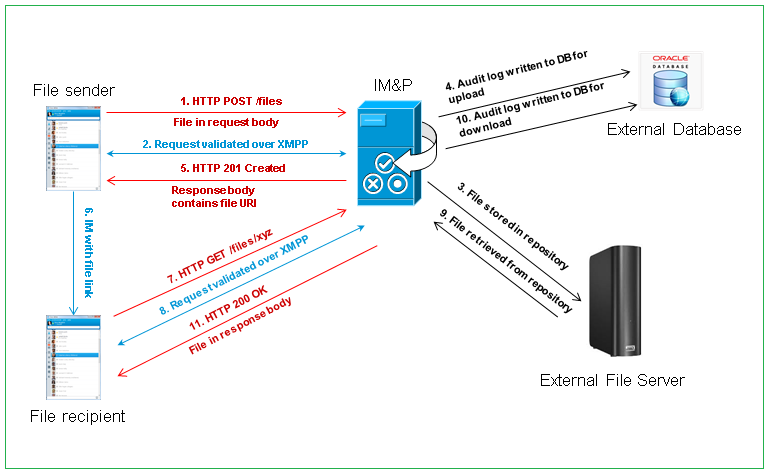 Configuration
File Transfer - Configuration
Step 1 Log in to Cisco Unified CM IM and Presence Administration,
choose Messaging > File Transfer.
Step 2 In the File Transfer Configuration area of the The File Transfer window, choose either Managed File Transfer or Managed and Peer-to-Peer File Transfer, depending on your deployment.
Step 3 Configure the Max file size
Enter the Maximum File Size. If you enter 0, the maximum size (4GB) applies.
You must restart the Cisco XCP Router service for this change to take
effect.

Step 4 In the Managed File Transfer Assignment area, assign the external database and the external file server for
each node in the cluster.
a) External Database — From the drop-down list, choose the name of the external database.
b) External File Server — From the drop-down list, choose the name of the external file server.
Configure an External Database Instance on IM and Presence Service
Make sure you configure the external Postgres Database and follow the procedure in the below link,
Step 5 Click Save.
After clicking Save a Node Public Key link, for each assignment, appears.

Step 6 Public key must be installed on file server

Step 7 Click the Public key link to display the node's public key

Step 8 Copy the complete key text and add to authorized_keys file on file server, e.g. /home/aftuser/.ssh/authorized_keys
Node's keys are invalidated if the node is unassigned from external database and file server
Step 9 Ensure that the Cisco XCP file transfer manager service is activated
Go to Cisco Unified IM and Presence Serviceability, Choose Tools > Service Activation and Click Go
Step 10 Restart the Cisco XCP Router Service.
Related Information