Beginner
Mark as New

Bookmark

Subscribe

Mute

Email to a Friend
Passing parameters between instances of a script
Hello,
Short version is in CCx 8.5(1) I need to limit the number of calls in queue to <= 16, but my callflow allows a 15 second to a minute where additional calls can sneak in. Call volume is high enough that the customer has noticed up to 20 calls in queue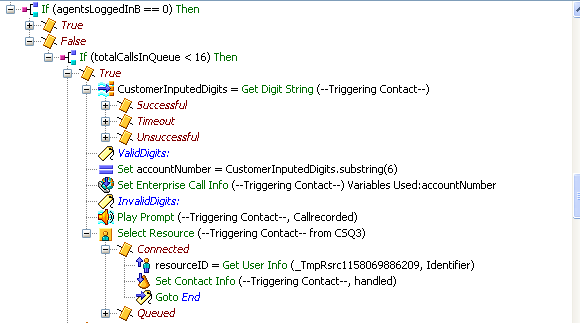 I don't want to ask the caller for their account number if they are not going to queue, and I need them to complete entering their account number before sending them to an agent. Between the TotalCallsInQueue comparison and the select resource step is where the opening for additional calls happens. So I was looking at using an enterprise data field (CallsEnteringQueue as a possible name) as a variable that I would read and add to the calls in queue count, If the total is <16 then the 1st step under True would be to increment the Enterprise data field so other instances of the script would know about this call, then decerement it right before the Select Resource step.
Can I use Enterprise data like a global variable in this way? I was thinking about using an XML file, but from what I've read it is not "thread safe", and i do not have an external database I can use for this step. I do not see an alternative Get Reporting Statistic step I could use to get total calls in an application or other alternative, but I'm open to suggestions.
Thanks,
1 ACCEPTED SOLUTION

Cisco Employee
Mark as New

Bookmark

Subscribe

Mute

Email to a Friend
I have to be honest, I didn't read your whole posting, but I read the first sentence and thought I'd share something.
In your screenshot, I don't see how you are setting the variable: totalCallInQueue. But there is a Get Reporting Statistics step where you can get the total callers in queue for any CSQ name.
So, when you say "I need to limit the number of calls in queue to <= 16", I immediately think "That's easy"
Variables
int queue_depth_threshold = 16

int callers_in_queue = 0

String csq_primary = "HelpDesk"
Script
...steps leading up to queuing...

callers_in_queue = Get Reporting Statistics (Contacts Waiting from CSQ IPCC Express)

If (callers_in_queue > queue_depth)

     True

          /* too many callers in queue, do something else */

          ...handle this scenario...

     False

          /* we're good to go, prepare for queue */

Select Resource (csq_primary)

     Connected

          End

     Queued

          ...queue treatment...
Forgive me if you know this alread, however your post did not show how and where you were pulling in the callers in queue metric.
Now I'll go back and read the rest of your post, and see what else you got for us.
Anthony Holloway

Please use the star ratings to help drive great content to the top of searches.