Highlighted
Explorer
Mark as New

Bookmark

Subscribe

Mute

Email to a Friend
Hi all,
I have a conference station, but I cant see the version in either, the configuration screen on the phone and the web page of the phone. for that reason I can not make this phone to register with the CUCM 7.1.3. I reccently update our CM and (publisher and suscribers),with a Device Pack but I did not work. The IP phone shows that it can't contact the TFTP server (on CUCM version 7.1).
The phone is in the same vLan
There are not conectivity layer 1 problems.
There are not ACLS, involved on this.
The IP phone can be only registeded by our old CUCM (4.1), Uploaded firmware version (last firmware on that CUCM (4.1)) and it works fine but I don't have ways to see the firmware version on my Phone, It seems that is "not visible, and locked", even if I access it with an admin account to the service web on the Phone.
Here is an image.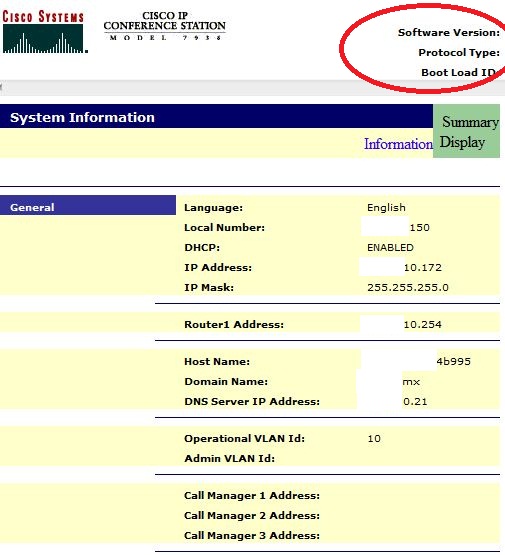 As u' can see, no version visible!, And I Tried to see the version by manually enter to the configuration en the phone screen, but it appears empty, no version is displayed, no data available in order to continue troubleshooting.
That phone works on CUCM 4, but that server is not currently in service, we have CUCM 7.1.3
I've tried also restarting the phone, by shut it down, and by the tool "Restore to factory defaults", and i get the same result "no version displayed". And, because of that I can not see if the phone has and older version or the newer version. (Both of our CM 4 and 7, have the latest firmware version for upgrade).
What could be the problem here?.
Thanks a lot.
1 ACCEPTED SOLUTION
Cisco Employee
Mark as New

Bookmark

Subscribe

Mute

Email to a Friend
Juan,
Please open a case with TAC to RMA the phone. I tried couple of work around I got but I was not able to upgrade the phone to newer firmware.
The reason why the web page does not show the firmware is because is very old firmware.
Thanks,
Luis