Options
Mark as New

Mark as Read

Bookmark

Subscribe
The Cisco Catalyst 8200 Series Edge Platforms: A New Addition to Modular Branch Portfolio for small to medium business with more flexibility!!!
On October 20th, 2020, Cisco launched their new edge platform innovation with the introduction of the Catalyst 8000 Edge Platforms Family. Evolving from the ISR 4400 Series routers, the Catalyst 8300 Series Edge Platforms were the first to launch positioned as highly capable CPE (Customer Premises Equipment) device for Enterprise Access WAN (Wide Area Network) edge at medium to large branch locations, Regional office sites as well as in MSP (Managed Service Provider) offerings .The Catalyst 8300 Series is comprised of four models, which are C8300-2N2S-4T2X, C8300-2N2S-6T, C8300-1N1S-4T2X, and C8300-1N1S-6T.
Throughout ''FY21'', Cisco continued to add more platforms to the branch network portfolio. During Q3, yet another Catalyst 8000 series was introduced, the Cisco Catalyst 8200 Series Edge Platforms. The Catalyst 8200 Series Edge Platforms evolved from the ISR 4300 Series routers and offer full feature parity with its predecessor. The Catalyst 8200 Series is comprised of two models: C8200-1N-4T and C8200L-1N-4T. These platforms can be positioned in both SD-WAN and Traditional deployments.
The two models are identical in terms of interface and module configuration but differ in performance, scale, and application-hosting capabilities.
Some of the hardware capabilities that the Catalyst 8200 Series Edge Platforms offers are:
4 built-in WAN ports with 1G connectivity
Connection flexibility supporting more than 50 types of NIM modules
Support for more than 30 NM modules from ISR 4000 Series family providing excellent ROI
Up to 32G DRAM scalability
Up to 600G M.2 NVMe storage capacity
External USB 3.0 (Type-A)
QAT (Quantum Assistant Technology) for greatly enhanced encryption capabilities and performance
Dedicated PIM (Pluggable Interface Module) slot for CAT18 LTE and 5G
Supports high speed cellular 4G LTE and 5G with Cisco Cellular Gateway device
Single AC power supply unit with optional external PoE (Power Over Ethernet) adaptor
Passive RFIC tag and business side accessible Label tray for effortless asset management
What makes Catalyst 8200 Series Edge Platforms superior to the ISR 4300 Series routers?
Compact 1 Rack Unit form factor with less than 12 inches in depth with flexibility to install it on the wall, desk or racks.
Higher WAN port density for more connectivity requirements.
Double the CEF (Cisco Express Forwarding) and IPsec (Internet Protocol Security) performance.
Twice the amount of DRAM for improved app hosting and scale with SD-WAN (Software Defined Wide Area Network) and traditional deployments
Higher storage capacity for future scale and application-hosting requirements
4G LTE and 5G cellular connectivity with dedicated Pluggable Interface Module (PIM) slot and with Cisco Cellular Gateway.
Supports Dynamic Core Allocation – a new data path innovation enabling flexible usage of CPU cores
Backwards compatibility with most Network Interfaces Modules (NIM) supported on ISR 4300 routers
All of the above makes the Catalyst 8200 Series superior to the ISR 4300 Series routers. We call these platforms the ''Next-Generation Modular Branch Platforms'
What types of slots and interfaces are supported on the Cisco Catalyst 8200 Series Edge Platforms?
The Catalyst 8200 Series Edge Platforms supports only Network Interface Modules (NIM) and Pluggable Interface Modules (PIM); Service Modules (SM) are not supported on the platform. NIM slots are available for LAN, WAN, and voice connectivity, and an integrated PIM slot is available for high-speed cellular WAN connectivity.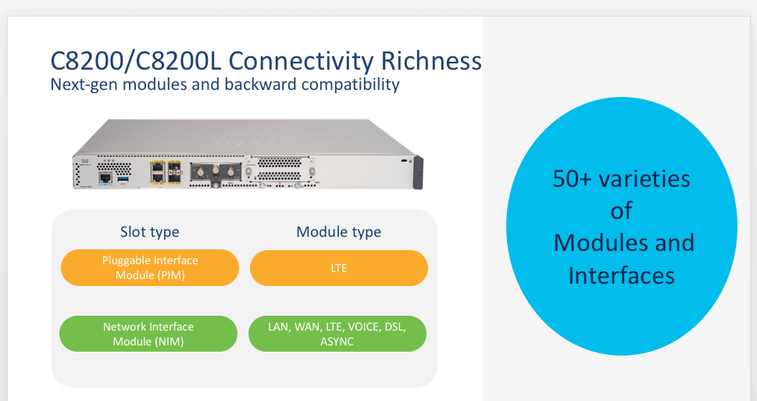 Are the Cisco Catalyst 8200 Series Edge Platforms compatible with modules supported on the ISR 4300 Series routers?
All of the NIM modules supported on the ISR 4300 Series, except for the Ethernet WAN NIM modules (NIM-1GE-CU-SFP and NIM-2GE-CU-SFP), are supported by the Catalyst 8200 Series Edge Platforms. In addition, we have introduced high capability WAN modules with 1and 2 port Gigabit Ethernet options to provide secure and high-speed WAN to the cloud, data center, and Colocation facilities. Alongside, these platforms also support Voice NIM modules platform to provide advanced voice capabilities with higher scale.
The new modules introduced are the following:
Integrated PIM slot for high-speed cellular connectivity with CAT18 LTE support - it is 5G ready with Cisco's new 5G Cellular Gateway device for high-speed cellular connectivity. PIM version of 5G cellular is available from XE 17.6 onwards.
Next generation L3 (Layer 3) WAN module supporting 1 Gig 256-bit WAN MACsec.
Next generation L3 WAN module supporting 2.5G (Multi-Gig), also supports 10/100/1000Mbps speeds.
Next generation PVDM DSP modules in the NIM form factor with 32, 64, 128, and 256 voice channels for conferencing, transcoding, and media termination with higher scale.
New external storage module in M.2 USB and NVMe form-factor with 16G/32G/600G options.
With this wide selection of connection options, the Catalyst 8200 Series Edge Platforms brings flexibility and enhanced capabilities the branch deployments as well as an attractive ROI trough the capability of re-using already existing module hardware to.
What are the different types of modules supported on the Cisco Catalyst 8200 Series Edge Platforms?
More than 50 types of modules offering a variety of services are supported on the Catalyst 8200 Series Edge Platforms. The detailed list of modules are shown in the image below: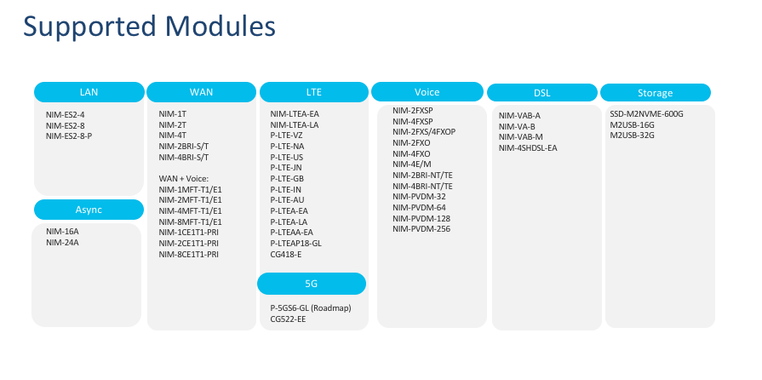 The advanced modularity and capabilities offered with the Cisco Catalyst 8200 Series Edge Platforms, takes branch networking to the next-level, ready to adapt to emerging future technologies providing lower total cost of ownership savings and higher investment protection to customers in current and future branch deployments.
Additional References:
You must be a registered user to add a comment. If you've already registered, sign in. Otherwise, register and sign in.