Highlighted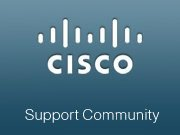 Community Manager
Mark as New

Bookmark

Subscribe

Mute

Email to a Friend
Ask the Expert: Cisco Nexus 2000, 5000, and 6000 Series Switches
with Cisco Expert Vinayak Sudame
Welcome to the Cisco Support Community Ask the Expert conversation. This is an opportunity to learn and ask questions how to configure and troubleshoot the Cisco Nexus 2000, 5000 and 6000 Series Switches with Cisco subject matter expert Vinayak Sudame. You can ask any question on configuration, troubleshooting, features, design and Fiber Channel over Ethernet (FCoE).
Vinayak Sudame is a Technical Lead in Data Center Switching Support Team within Cisco's Technical Services in RTP, North Carolina. His current responsibilities include but are not limited to Troubleshooting Technical support problems and Escalations in the areas of Nexus 5000, Nexus 2000, FCoE. Vinayak is also involved in developing technical content for Cisco Internal as well as external. eg, Nexus 5000 Troubleshooting Guide (CCO), Nexus 5000 portal (partners), etc. This involves cross team collaboration and working with multiple different teams within Cisco. Vinayak has also contributed to training account teams and partners in CAE (Customer Assurance Engineering) bootcamp dealing with Nexus 5000 technologies. In the past, Vinayak's responsibilities included supporting MDS platform (Fiber Channel Technologies) and work with EMC support on Escalated MDS cases. Vinayak was the Subject Matter Expert for Santap Technologies before moving to Nexus 5000 support. Vinayak holds a Masters in Electrical Engineering with Specialization in Networking from Wichita State University, Kansas. He also holds Cisco Certification CCIE (#20672) in Routing and Switching.
Remember to use the rating system to let Vinayak know if you have received an adequate response.
Vinayak might not be able to answer each question due to the volume expected during this event. Remember that you can continue the conversation on the Data Center sub-community, Other Data Center Topics discussion forum shortly after the event.
This event last through Friday July 12, 2013. Visit the community often to view responses to youe questions of other community members.