Beginner
Mark as New

Bookmark

Subscribe

Mute

Email to a Friend
New Datacenter build - Advice needed on network design
Hi Everyone,
Apologies first off as I'm an inexperienced Project Manager who's just starting out and have been given a task to hypothetically build a fully redundant Data center. My main point of concern is how i can put together a network diagram showing the following equipment with only a brief high level overview of how all this equipment connects to one another as listed below
Infrastructure
A pair of 6506E switches for resiliency in the DC will act as the core and aggregation layers, the 2 switches will be linked together by 2 10GB Links. This chassis based units will allow for spare capacity for growth. VSS (Virtual Switching System) will be configured on the 6506's clustering the 2 chassis into 1 logically managed entity. This will enable a loop-free topology, allow state full failover of the core / aggregation switches, and increase the oversubscription ratio. ACE load balancing modules have also been included within the Core/aggregation switches providing a throughput of 8Gbps which can be increased to 16Gbps through additional licenses; these will also support the termination of 1Gbps of SSL connectivity for server.
The 140 port requirement equates to 3 x 4948 switches to be utilized in a "Top of Rack" design feeding back to the aggregation layer. Servers are required to have 1 port connectivity only so port count density for dual homing as not been accounted for. The VSS collapsed core/aggregation layer is formed from 6506-E switches with multiple 10G modules and would connect over 10G connections.
The DC will connect into an IBM Network and a Cisco terminal server will connect via PSTN line to allow remote support staff access into the DC for support in the event of complete GSNI and EVPN failure.
The equipment is as follows:
Core/Aggregation Switches: WS-C6506-E x2
Access switches: WS-C4948-10GE-S x3
Terminal server: CISCO2811-16TS x1
WAN FireWalls: ASA5540-BUN-K9 x2
Routers: Cisco 1921 router x2
Circuits: E3 x2 (Different POP locations for diversity)

I'm sorry if any if this is vague but that's sort of the predicament I'm in currently and would really appreciate any advice or even better a basic diagram how this equipment and circuit connects together as i seem to going around in circles
Many Thanks
Paul
VIP Community Legend
Mark as New

Bookmark

Subscribe

Mute

Email to a Friend
I think you need to consider talking to a systems integrator.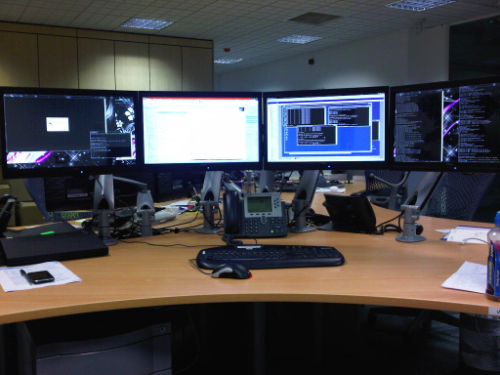 Beginner
Mark as New

Bookmark

Subscribe

Mute

Email to a Friend
This is from a previous company I worked for that I used a SI to design.
Replace the 2 x 4507R+E with your 2 x 6506 chassis with 2 x 10Gb VSS links
Your 3 x 4948 switches would replace my 2960S stacks & utiliise 10Gb uplinks (dual homed to each 6506 for redundancy)
Replace the 2921 with your 2811 Terminal server
Replace the 2 x 5520 with your 5540 ASA's.
As you have 10Gb to your access layer, you can reduce the port count required for failover.
Let me know if you need any more info.