Beginner
Mark as New

Bookmark

Subscribe

Mute

Email to a Friend
Defaulut GW is set as a different subnet but it works, WHY?
Thank you for all of your help.
I made my question simple.
When a router has multiple active subnets, hosts can ping with another subnet's GW address.
Please see the following image.
I made two types of structures.
Three success examples with red square should NOT success due to the wrong GW address on those hosts.
But those PCs can ping each other.
I'd like to know why it works.
If you can not see the image, please see the attachment; gwquestion2.jpg.
If you need further information, please let me know.
Thanks
=== OLD IMAGE ===========================
Please look at the image on this email below.
There are four areas, 0, 11, 22 and 33.
In the area 33, PCs are configured with static IP addresses.
PC, named DOG, is set as follow,
IP address: 192.168.33.20
Default GW: 192.168.1.1
This area is set as VLAN 33 at SW3.
The default GW is set on the R1 and it's configured encapsulate dot1q.
f0/0.11 192.168.1.1
f0/0.33 192.168.33.1
Other PCs are correctly configured and work.
The PC, named CAT, in the same area is configured as follow,
IP address: 192.168.33.10
Default GW: 192.168.33.1
And it works as well.
Is it possible to set a default GW of a different subnet on a host?
If so, is this configuration used in actual networking?
Is there any problem or concern for this settings?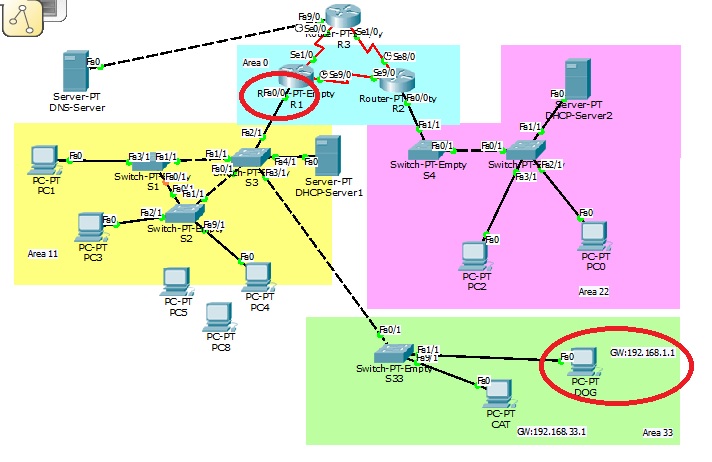 1 ACCEPTED SOLUTION
Hall of Fame Guru
Mark as New

Bookmark

Subscribe

Mute

Email to a Friend
There are some things about this environment that I do not understand. But almost certainly the reason why the PCs can ping each other has to do with proxy arp. With proxy arp enabled the Cisco router will respond to an arp for a "remote" address if the router has a route to the destination. If the PC default gateway is 192.168.1.1 and that is on a remote subnet and if the PC sends an arp looking for 192.168.1.1 then the router will respond to the arp request using the router's mac address as long as the router has a route to 192.168.1.1.
I have seen this used in production networks, though increasingly organizations are disabling proxy arp because they believe that it contributes to security weakness in their impelmentation.
HTH
Rick
HTH

Rick