Highlighted
Beginner
Mark as New

Bookmark

Subscribe

Mute

Email to a Friend
Hi networkers!
Here is an scenario example...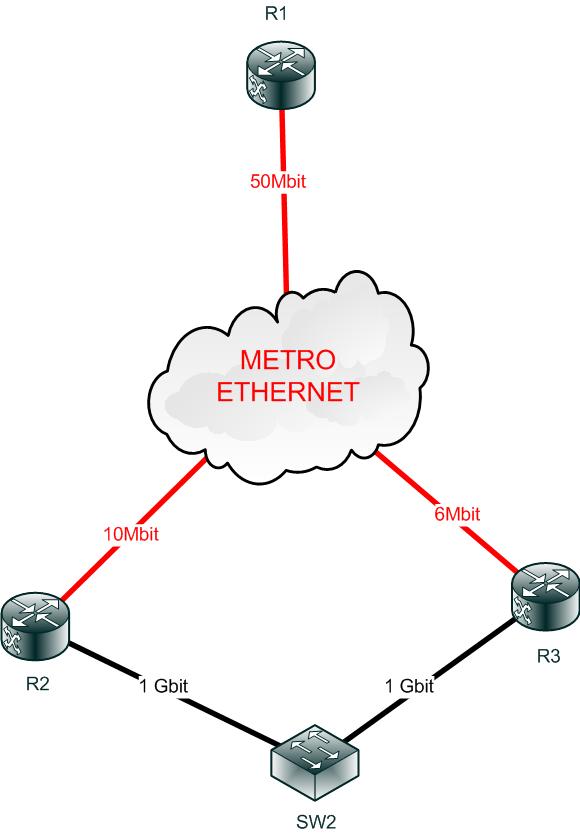 The problem is with EIGRP route decision.
EIGRP always looks at the outgoing interface speed of a router for selection of the best route.
In my case, R1 goes directly to R3 because of 50 Mbit outgoing bandwith on R1 and does not "see" 6 Mbit on R3 side.
Logicaly I would like it to go R1 --> R2 --> R3 because of higer speed via R2.
From R3, the route is OK, R3 --> R2 --> R1.
I know about some methods like OFFSET LISTS, ROUTE MAPS ...
The question is, which method is the best concidering this is only an example, in reality there are many more Routers and ME links on my network?
Is there an option to configure on R3 only and propagate to the whole network via EIGRP?
Thanks in adwice...
1 ACCEPTED SOLUTION
Rising star
Mark as New

Bookmark

Subscribe

Mute

Email to a Friend
Hi,
You have only three options to modify the metric calculation of Eigrp.
1- Modifying the Bandwidth Of the Interface.
2- Modifying the Delay Value of the Interface.
3- Configuring Offset-list.
I would suggest you set an Offest-list Value on R3 to higer the delay towards R1, this way R1 would believe R2 is the best path to reach R3.
Follow the below link for more info about Setting Offset_list:
http://www.cisco.com/en/US/tech/tk365/technologies_tech_note09186a00800c2d96.shtml
Regards,
Mohamed