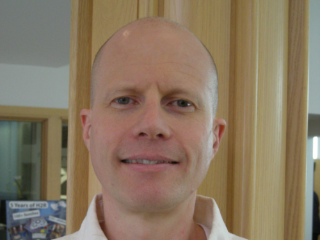 Beginner
Mark as New

Bookmark

Subscribe

Mute

Email to a Friend
I'm trying to solve the following problem:
campus core
/ \
/ \
/ \
m-a-rtr ------ dc-a-esx --------- dc-b-esx ------ m-b-rtr
subnet 10.1.5.0/24
-Where 'm-a-rtr' and 'm-b-rtr' are distribution layer boxes (C6K), i.e. all Layer 3 interfaces, with an HSRP relationship between them (10.1.5.1 is the virtual address)
-Where 'dc-a-esx' and 'dc-b-esx' are a redundant pair of data center switches (C6K), i.e. all Layer 2 interfaces, servicing hosts
m-a-rtr and m-b-rtr both advertise reachability for 10.1.5.0/24 to the campus core
m-a-rtr:
interface Vlan5
ip address 10.1.5.2 255.255.255.0
standby 5 ip 10.1.5.1
standby 5 timers 1 3
standby priority 105
standby preempt delay minimum 120
m-b-rtr:
interface Vlan5
ip address 10.1.5.3 255.255.255.0
standby 5 ip 10.1.5.1
standby 5 timers 1 3
standby priority 100
m-x-rtr:
router eigrp 30
network 10.0.0.0
passive-interface default
no passive-interface VlanX
When dc-a-esx reboots, link goes down on its m-a-rtr interface, and m-a-rtr withdraws its advertisement for 10.1.5.0/24. That's good. When dc-a-esx returns to life, it brings up link on its m-a-rtr interface, m-a-rtr starts advertising reachability to 10.1.5.0/24. But dc-a-esx isn't functional yet -- it is still booting. Several minutes of black hole ensue. [m-a-rtr's interface to dc-a-esx also goes HSRP Active, as it isn't hearing any Hellos from m-b-rtr. But that doesn't much matter, since dc-a-esx isn't passing traffic and the hosts don't hear its gratuitous ARPs.]
==> How do I suppress advertisements for 10.1.5.0/24 from m-a-rtr until dc-a-esx is fully functional?
I have lived with this design for about a decade, feeding ~ten data centers equipped with redundant switches (Cat4507 and Cat6509), without getting burned. I test Ethernet/IP HA monthly, by rebooting each box in turn, pinging everything in a data center during the process to verify connectivity -- works great. I just deployed Cat6504s in one data center, and now I encounter ~two minutes of black hole. In hindsight, I don't understand why this issue hasn't bitten me before. Perhaps my existing C4K and C6K bring up link on their distribution layer interfaces at the very end of their boot sequences? Seems hard to believe.
Poking around a bit today ... I've run into 'PBR Support for Multiple Tracking Options'. Seems like this would solve my problem. But it also seems like a lot of work. How do other folks solve this problem?
--sk
Stuart Kendrick
FHCRC
1 ACCEPTED SOLUTION
Highlighted
Hall of Fame Guru
Mark as New

Bookmark

Subscribe

Mute

Email to a Friend
stkendrick wrote:

Hi Jon,

OK, this has been helpful for me; thank you for engaging so thoroughly.  [No, we're not ready for VSS.]

On a final note, what value, if any, do you see in the following, again in the context of data centers?

(a) Shrink HSRP timers below 1 / 3, i.e. into the sub-second range?

(b) BFD

(c) IP Dampening

(d) GLBP (replacing HSRP)

--sk
Stuart
Generally speaking anything that can reduce convergence time when an outage occurs in your DC is a good thing to have.
a) You can but you need to be careful that you don't reduce it too much so that HSRP packets get lost and you flip/flop between switches
b) BFD - yes if your devices support it
c) Not sure in what context
b) If you stay with the L2 uplinks bith forwarding then yes it would allow you to load-balance per vlan on the distribution switches. Note if you go with a design where one of the uplinks is blocked there is not a huge amount of gain because traffic has to traverse the L2 distribution interconnect to get to the other active router.
As i say, anything that helps convergence is a plus in the DC.
Jon