Beginner
Mark as New

Bookmark

Subscribe

Mute

Email to a Friend
Nexus 5K network topology change
Hello!
I would like to ask help to decide the reform of our network topology.
I drew the relevant part of network and the 2 opportunity.
We have 2pc 3850 (stack) L3 switch (Core-AB) as Designated router with OSPF routing. The area numbers 12, the dynamic networks are some 300 pieces. Cisco offer the 3850 is access switch not Core.
Until now we don't have 10Gb switch and now we will buy 2 pieces Nexus 5548UP with L3 licences. The main goal was to link servers with 10Gbs. Current we have to use only 2x10Gb network modul in C3850.
I have 2 opportunity:
1. Put the Nexus in the network as L2 switch and minimal topology change
or
2. Change the 3850 DR to 5548 UP and then the Nexus will be the OSPF DR and every servers with 10Gbs interface connecting in the new Core sw.
The first version less and easier modification but the Nexus has much more performance.
If I know the 2 Nexus (with vPC) not same as stacked C3850, so the OSPF DR task will have to do only one.
Thanks any advice.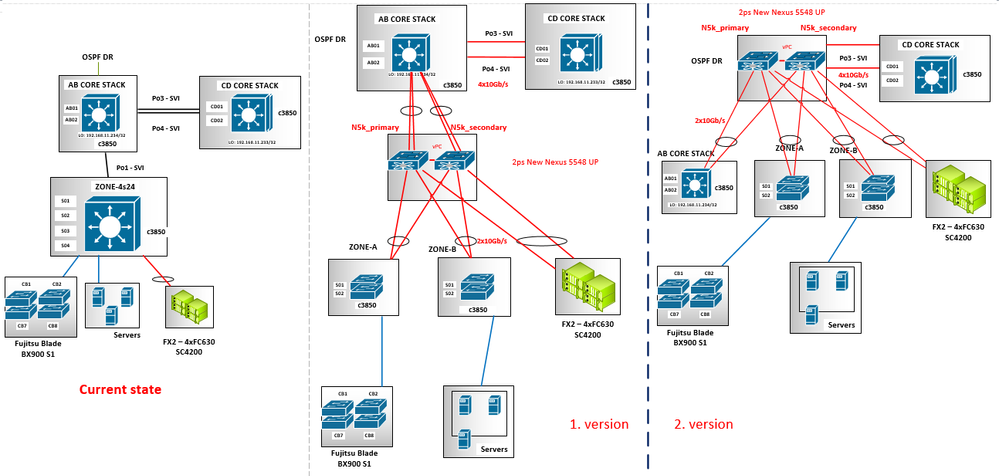 2 ACCEPTED SOLUTIONS
Collaborator
Mark as New

Bookmark

Subscribe

Mute

Email to a Friend
In option 1, with the Nexus just being L2, all routing still has to happen at the 3850s, which could be a limitation.
In option 2, the desired 10 gig connectivity is achieved and routing occurs at the same switch. Seems more efficient to me. Also, when comparing 3850 stack vs Nexus vPC, I'm more partial to the vPC as it provides better redundancy in that there two control planes. Each switch is independent, although they appear as one switch to the others.
As far as OSPF DR is concerned, I don't think that is a huge issue. As a matter of fact, the DR for the various VLANs could be split between the two, or any way you want by setting the OSPF priority on each network.
Just my thoughts anyway.
Collaborator
Mark as New

Bookmark

Subscribe

Mute

Email to a Friend
1. Yes, that would be the way I would do it. Insert the Nexus as layer 2 and then transition it to the L3 core. I've done just that multiple times with great success.
2. If I understand you correctly I'd have the two Nexus be the DR and BDR. When doing vPC it's best if the switches mirror each other and not have one doing L3 and the other L2. It makes routing easier and offers better overall performance.
Regards