Options
Mark as New

Bookmark

Subscribe

Mute
‎09-24-2020 04:37 PM - edited ‎09-24-2020 04:57 PM
Hello.
I have a Cisco Catalyst 4500X Switch that is currently on production. It's a WS-C4500X-16 switch. I don't have info about its IOS version or its current memory contents.
The Switch does not have configured neither Telnet nor SSH remote access. But I have physical access to the Switch and its Console Port, as shown in Figures 1 and 2: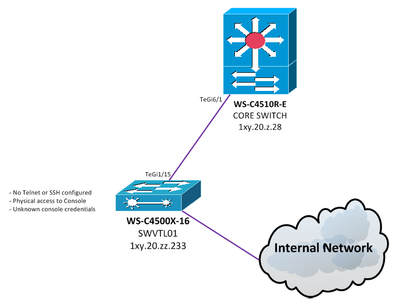 Figure 1: Network Diagram
Figure 2: Console access attempt
The console access to the switch it's protected by password, but nobody knows it.
I need to regain access to the Switch, so I checked some documentation regarding the Password Recovery procedure for it.
All I have found is this document: https://www.cisco.com/c/en/us/td/docs/switches/lan/catalyst4500/XE3-8-0E/15-24E/configuration/guide/xe-380-configuration.pdf that lists some basic steps to do a Recovery Procedure, as shown in Figure 3: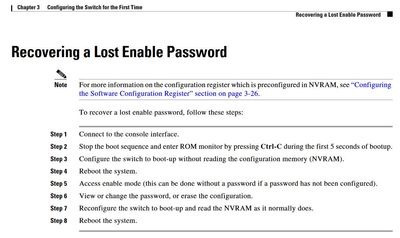 Figure 3: Steps for Password Recovery as Shown in documentation
But those steps are way too summarized to actually follow.
So I would like to ask some help regarding this:
- Could you please provide me with a more detailed set of steps required to make the Password Recovery procedure for this Switch? Where can I fin a better documentation.
- The Password Recovery procedure does not involve losing the current configuration of the Switch, right?
- What other advice / requirements can you suggest to me when doing this procedure?
Thanks in advance for any help you can provide to me. If you want more info about this, or have any questions, just let me know.
1 Accepted Solution
Options
Mark as New

Bookmark

Subscribe

Mute
‎09-24-2020 05:18 PM