Highlighted
Beginner
Mark as New

Bookmark

Subscribe

Mute

Email to a Friend
Subnets on single switch problem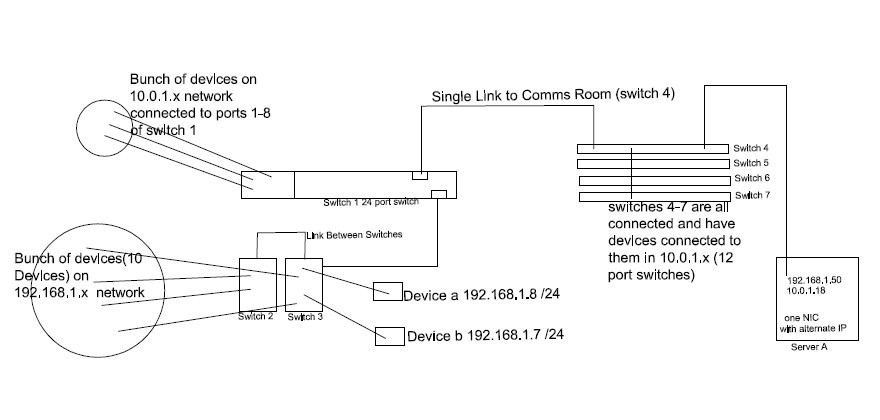 Hi i recently completed a CCENT and am now moving onto to CCNA. I came across a network recently shown in the attachment that had a problem and i have a few questions and am trying to debug it. Any suggestions would be appreicated.
Device a sends info to device b every second over tcp/ip (few packets of info). If the link to Switch 1 is not connected the 192.168.1 network works fine and device a and device b function as normal.
When the link from switch 3 is plugged into switch 1 after approx 2 hours device b stops working as it does not receive infomation from device a.
This is repeatable plugging into switch 1 always causes an issue on device b.
All the switches are unmanaged switches.
The server needs to communicate with the 10.0.1.x and to the 192.168.1.x network but the other deices on the 10 network and 192 network do not have to communicate with each other. The server runs monitoring software and needs to "see" all devices. The server has one NIC with an alternate IP set up and can ping the devices on the 192,.168.1.x network and the 10.0.1.x network.
I was wondering is there a potential issue with the two subnets on the switch or is there possibly an issue with broadcast traffic?
The devices are not PC but industrial communication devices so im am unsure how to debug the issue.Also cannot view any logs on the switches as they are unmanaged.
One though i had was to put a cisco 3550 switch i have for testing in there and connect device a,device b on the cisco switch, then create a SPAN port and connect wireshark/dumcap to the SPAN port to monitor the traffic being sent between the two.
If anyone has any suggestions please let me know thanks