Highlighted

Community Manager
Mark as New

Bookmark

Subscribe

Mute

Email to a Friend
Ask the Expert: Lessons Learned Deploying an All-Wireless Office
This topic is a chance to discuss more about how to deploy a successful and reliable wireless office. Learn more about the good, bad, ugly and hurdles that is needed to overcome for a successful and reliable process. Ask about methods, components, products and best practices to implement an all-wireless office (AWO), which is considered the next evolution of true Wi-Fi mobility in the enterprise.enterprise.
To participate in this event, please use the

button below to ask your questions
Ask questions from Tuesday, February 14th to February 24th, 2017
Featured Expert
George Stefanick is a Wireless Architect employed by a large healthcare system in the Texas Medical Center. His Wi-Fi engineering experience spans nearly two decades and in that time he has provided consulting to many Fortune 500 companies in industries such as healthcare, mining, and hospitality. He maintains a popular Wi-Fi engineering community, the blog MY80211.com and he holds many vendor and vendor neutral certifications.
Also, he has been Technical Editor for two books related to Wireless Network technology: "CCNA Wireless Study Guide" by Todd Lammle and "Designing and Deploying 802.11 Networks: A Practical Guide to Implementing 802.11n and 802.11ac Wireless Networks for Enterprise-Based Applications" by Jim Geier .
As a member of the Cisco Support Community, George has been awarded with a Cisco Designated VIP status, a recognition that Cisco bestows upon the most valuable and influential members of their official technical support community.
George might not be able to answer each question due to the volume expected during this event. Remember that you can continue the conversation on the Contact Center Community
Find other https://supportforums.cisco.com/expert-corner/knowledge-sharing.
**Ratings Encourage Participation! **
Please be sure to rate the Answers to Questions
1 ACCEPTED SOLUTION
Highlighted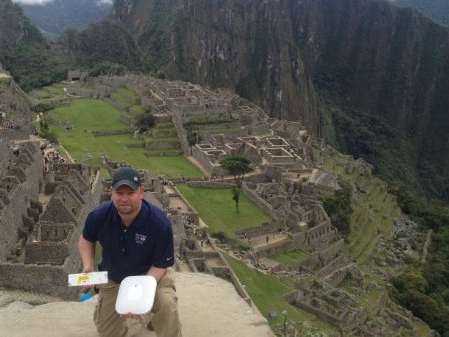 Advisor
Mark as New

Bookmark

Subscribe

Mute

Email to a Friend
Abraham, Thank you for the kind comments Im really glad you enjoyed it.
Device testing is a very a important consideration when deploying reliable WiFi. Once you have a mental check box that the RF and wireless configuration is optimal and your config is simple and there was no changes on the network you can quickly start looking at the clients.
Back to the testing ... Its not an easy task and it takes time to baseline client devices and drivers. Once you have your data base full of testing data you can then really feel comfortable and compare results.
1) Baseline receive sensitivity of the device. We do this by testing at different distances from the ap and different orientations of the device. We can see quickly for example the iPhone hears the network 7-9 dB lower then say the average device. This is telling and might mean we need to consider a denser deployment.
2) Roaming test - Look at 802.11 and 802.1X roaming - Collect logs on the device, OTAC (Over the air captures), and controller side.
- Make sure 11r, OKC is supported and working
- Baseline the time from the last data frame sent on the old ap to the first data frame sent on the new ap
- Check roaming triggers and baseline
3) QoS markings
- If your device and app is suppose to mark QoS make sure it is and that it is marking correctly.
4) Allow the device to sit for 24-48 hours and see how the device behaves - do a constant ping do we lose pings and if so why
5) Elevator ride / off campus on campus -- take the device on a long elevator ride does it quickly recover when coming back into coverage
6) Does the device / app support Multicast confirm with multicast hammer OTAC, debugs
7) What 5 GHz channels does it support. Test connectivity on all bands UNII1/2/2E/3
8) Does the device UAPSD/PS POLL or some custom power save. Identity this and observe it working and baseline.
9) Does the device probe aggressively -60 or lower you can see this with transmitting probes as the device is building a neighbor list. If a device is off channel probing its not servicing the client
10) Does the device support 11k if so confirm this ...
The list goes on. What is key, after you collect a lot of devices and or device and driver info you will see a pattern. If you test a device that is way out of spec compared to other data you collected you can start to question -- Humm will this device work in my environment. Then test and see.
I hope that helps.
If you are using EAP then either your device will support NO advance roaming features or it will have some flavor of OKC, PMK cache (fast roam back) or 11r. If a device doesn't support advance roaming protocols you are 100% correct. The device will have to do a FULL 802.1X, which is very much like pulling a cable from the wall and plugging it back in. That all said the controller by default supports OKC. In a BYOD environment where there is little control you are really challenged. Apple and some flavors of android support 11r. But I find some vendors who say they do but once we test we find out they dont support or have issues supporting 11r.
You my friend are in one of the most challenging environments. You know all to well and better then most about BYOD. When I think of wireless devices and education I think of the Guns and Roses song - Welcome to the jungle baby ..
My suggestion is this ... You will never be able to control or manage these devices. While we want the best experience for our users. Find out the larger quantity of devices and NICs and test these drivers. When a student calls in and has an issue and they match say a 7265 INTEl NIC you can tell them we suggest driver XYZ.
I hope this helps bud .. Thanks again for spending the hour with me and the cisco team on the webex.
"Satisfaction does not come from knowing the solution, it comes from knowing why." - Rosalind Franklin
___________________________________________________________