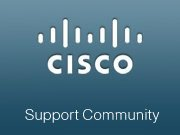 Community Manager
Mark as New

Bookmark

Subscribe

Mute

Email to a Friend
FAQ Community Live- Understanding How Multicast Works with Cisco Wireless LAN Controllers
This event had place on Tuesday 19th, November 2019 at 9hrs PDT
Introduction
Featured Experts

Estefania Pacheco
is a Technical Consulting Engineer on the Wireless team at the Customer Experience (CX) Center. She provides top-level technical support for worldwide customers using Cisco wireless products. Previously she worked as a Network Engineer with Cisco Advanced Services, solving customer challenges, compatibility issues, and reviewing network designs. Estefania holds a bachelor's degree in Telecommunications Engineering from the Universidad Nacional Autonoma de Mexico (UNAM). She holds a CCNP R&S certification.

Jhosbell Verdesca
currently works as a Customer Success Specialist focused on Enterprise Networks, Cisco DNA Center, and SD-Access. Before his current position, he worked as a Cisco Support Enginner for the Wireless Team at Cisco's Technical Assistance Center (TAC) in Mexico for three years. Prior to joining Cisco, he worked for three years with a Cisco Gold Partner in Venezuela, implemenenting and supporing solutions in the Routing, Switching, and Security areas. Jhosbell holds a bachelor's degree in Telecommunications Engineering from the Universidad Catolica Andres Bello (UCAB) in Caracas, Venezuela. He holds two CCIE certifications, one in Wireless and one in Routing & Switching (#58023).
You can download the slides of the presentation in PDF format here.
Live Questions
Q: What happens if you have two WLCs with two multicast groups and a client roams between the two controllers?
A: The Multicast packets are tunneled to the anchor controller of the client to avoid the reverse path filtering (RPF) check. The anchor then forwards the multicast packets to the infrastructure switch.
Q: If you set AP Multicast mode to Multicast and provide a group IP, do you also need to go to Controller > Multicast and enable Global Multicast mode?
A: Yes, you need to enable global Multicast on the WLC to start talking Multicast.
Q: By default, in a wireless cell, a Multicast data packet is sent as A-MSDU or A-MPDU from the AP?
A: They are sent using A-MPDU.

Q: What if WLC MGMT & AP MGMT are the same VLAN?
A: Then, no need to enable multicast on that VLAN. You can use either Multicast-multicast or Multicast-unicast.

Q: In scenarios 1 & 2. Interface VLAN 20 is the AP management IP address, does VLAN 30 represent the VLAN that the user's traffic is using?
A: Vlan 30 is the AP vlan
Q: So in scenarios 1 & 2 VLAN 20 is the MGMT VLAN for the WLC, VLAN 30 is the VLAN for the AP MGMT, and user traffic is on VLAn 50, 60, or 70?
A: That is correct.

Q: So if WLC is gone, then entire Multicast network is down?
A: If it is local mode or central switching the APs will lose connectivity and the whole wireless network will be down.

Q: When does Media Stream makes sense in being configured for Multicast traffic?
A: Actually, when you do media stream you specify a Multicast stream and what it does is that you can combine that with Multicast direct to be able to send that traffic in unicast towards APS for specific Multicast groups and that will allow you to do some reliable sending and apply different policies Since traffic will be in unicast.

Q: So if you have multiple sites connected via MPLS or DPVPN and the APs at each site join the WLC in a data center if you have flex connect enabled to locally switch some of the VLANs, you have to add the pim commands on each site core switches for the required vlans?
A: If you have FlexConnect Local Switching, you don't need to enable multicast at the WLC. The traffic will be handled locally at the switch, therefore if you need the multicast communication to happen between different subnets or even different sites, you need to enable multicast in the wired network between the source and the receivers. The WLCs will not participate in the multicast traffic forwarding, therefore its location is not relevant.

Q: To confirm, all APs join the WLC's configured Multicast-Multicast Mode group address, and thus all APs will receive all Multicast streams, regardless of whether the AP has wireless clients that want that multicast stream or not, right?
A: Yes, since they are part of the Multicast group they all will receive the Multicast traffic. Nevertheless, they do not have any client requesting this traffic they will simply drop this traffic.

Q: On both Scenarios #1 and #2, the WLC-mgmt and AP-mgmt VLANs needed what "ip pim" command configured? (ip pim sparse-dense?)
A: We used ip pim sparse-dense. This will use Sparse mode if there is a RP (Rendevouz Point) enabled, or Dense Mode if there is not.

Q: Does the process this the same for a unicast video stream? I mean if traffic is natively multicasted over wireless you have to send it at low data rates and unreliably.
A: Yes, this is needed for video stream. But there is some additional steps to make video stream more reliable.Please refer : https://www.cisco.com/c/en/us/td/docs/wireless/controller/8-5/config-guide/b_cg85/multicast_broadcast_setup.html#d110100e1461a1635

Q: What about FlexConnect AP's on remote branches? For instance, if we are using flexconnect infrastructure, Should we need to enable the traffic on the controller or just configure the switches and routers?
A: For FlexConnect, all the mcast configuration must happen in the wired network. For example, if you need mcast traffic between clients on different SSIDs/VLANs, you need to enable multicast-routing and pim on both VLANs at the gateway. No wlc config reqd.

Q: How Multicast to unicast conversion works and how it is configured as easily as possible?
A: TP use Multicast unicast, you need to configure the AP Multicast mode and select Unicast. In that way WLC will send multicast traffic to the interested APs using unicast packets. This Multicast mode is not recommended for more than 50 APs. In this mode you do not need to enable multicast between APs and WLC vlans.

Q: Ok, and if you were to have a multicast source in the DC and FlexConnect AP's on the remote site using local switching, the igmp join will be bridged to the switch the AP is on and the join will reach the default gateway on that site which needs PIM config
A: Exactly. Then you will need PIM enabled all the way between the DC and the client's default gateway.

Q: How does directed Multicast differ from video stream? Is the DMS enough to convert a Multicast stream to unicast reliable packets going from the AP to the clients to avoid the packet loss issue?
A: The main difference is that DMs is 802 11 B so the clients need to support 802 11 B. So on video stream, if the AP captures the Multicast packets that are sent from those clients to allow the clients to sleep for longer time they will send the packet after the client come back up. Whereas on Multicast stream we're just talking about the conversion form Multicast to Unicast

Q: Our WiFi is dual-stack. Any comments on MLD for IPv6?
A: The forwarding logics from the controllers to the Aps is most likely the same if you need Multicast routing between the controller and the AP management VLAN.
Nevertheless, for IPv6 you need to consider other things into consideration, such as a logical route advertisement guard to prevent clients from becoming Multicast gateways at the default subnet etc.
The logic about how Ipv6 and Pv4 works is pretty much the same, but MLD and IPv6 have some differences on the way the clients learn or request Multicast traffic, they also need to have different type of packages so you can leverage Multicast to get IP addresses, etc. There are specific things for IPv6 but overall forwarding of the traffic is the same of what we showed on this session

Q: What happens to the Multicast traffic if "Multicast Mode" is Multicast and Global Multicast is disabled?
A: In this case the multicast traffic is not forwarded since Multicast is not enabled in the WLC. This scenario is not supported, please refer: "Table 1. Platform Support for Global Multicast and Multicast Mode"
https://www.cisco.com/c/en/us/support/docs/wireless-mobility/wireless-lan-wlan/81671-multicast-wlc-lap.html#anc8

Q: What is the QoS behavior with IP phone wireless devices expecting Multicast traffic from a server? What if the devices are experiencing choppy voice only when requesting Multicast traffic from a server?
A: Multicast traffic is sent at the highest mandatory data rate. Therefore, the client may be using a higher rate for unicast frames. We usually recommend having only 1 mandatory rate but if you have a multicast heavy deployment, consider enabling two. QoS wise it is treated the same. But there are some optional features that you can enable, for example multicast-direct or 802.11v DMS. The way between the DC and the client's default gateway.

Q: On the WLC \Controller\General page, what are "AP Multicast Mode" and "Multicast Group Address" used for?
A: AP multicast mode is the multicast method that the controller uses in order to transport the multicast packets over CAPWAP to all or several access points at the same time. The controller performs multicasting in two modes, unicast and multicast. For further details refer: https://www.cisco.com/c/en/us/support/docs/wireless-mobility/wireless-lan-wlan/81671-multicast-wlc-lap.html#anc4
The multicast group address is used in case you choose AP multicast mode as "Multicast". When you enable multicast mode on the controller, you must also configure a CAPWAP multicast group address. APs subscribe to the CAPWAP multicast group using IGMP. When you enable multicast mode and the controller receives a multicast packet from the wired LAN, the controller encapsulates the packet using CAPWAP and forwards the packet to the CAPWAP multicast group address.
Related Information