Options
Mark as New

Mark as Read

Bookmark

Subscribe
Meet Javier Acuña, our Cisco Designated VIP 2023.

Javier Acuña
Planning and Engineering Leader in Venezuela, he has a CCNP Enterprise & CCNP Security certifications. In addition to being an Advanced Routing Specialist, he has also been awarded by the Cisco Community in Spanish as a Spotlight Award and two consecutive years as a Cisco Designated VIP (2022 and 2023). One of the things that excites him most about participating in the community is "helping any user of the platform (...) just as I would like it to be explained to me".
His great charisma and friendliness make Javier an exceptional person. Join us in this interview!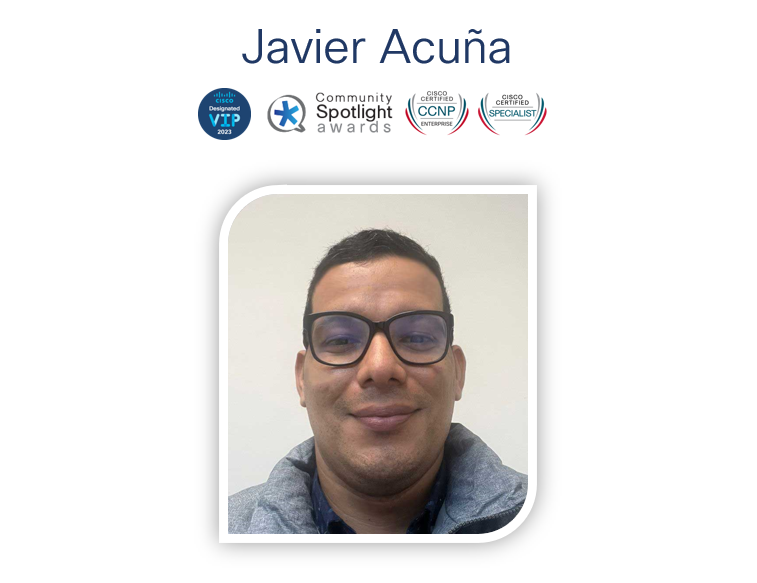 1. What does it mean for a member to be a Designated Cisco VIP?
Being a VIP member is being an ambassador of the brand, demonstrating that we can help any user on the platform at any time they require it, and providing quality care with official material in the clearest way possible. Just as I would like it explained to me.
2. What has been your experience in this period?
During this period I have had the opportunity to continue training, managing to pass the CCNP Security Core exam, in addition to participating in multiple Webinars to understand the different technologies that Cisco manages. It is gratifying to be able to count on experts first-hand, helping to clarify doubts.
3. What changes have you noticed for yourself, in your environment or in your relationship with other people?
It has shown me that we can continue learning from any topic, and above all, that we only know a small part of the universe. Being a VIP member helps you keep in mind the quality of service, being able to help anyone is so valuable.
4. What does an engineer like you do? What is your day to day like with so many responsibilities?
I am currently the Technical Leader of a company that is venturing into the world of technologies, managing data centers (Cisco) and different security platforms that help keep the network secure. An operations engineer knows that his day-to-day life is a lot of fun since we can face any challenge, including a simple failure to complex failures. These failures force us to train, create laboratories and replicate the failures, and then add that experience to our bag of skills.
5. We would like to know... How did you get to the Cisco Community?
I came to Cisco Community thanks to a study program called Cisco Library. There I started the training. Then I entered the community, and the community manager contacted me and gave me that little spark to continue supporting the community.
6. How do you organize your time to continue participating?
I usually check the portal twice a day, in the morning and afternoon.
7. What do you like most about the community?
The ability that any expert can provide care, and how well trained the engineers in LATAM are.
8. What do you like least about the community?
In many cases the material in Spanish is not 100% translated.
9. If you had a magic wand, what new thing would you like to see in the community?
I would like to see more people participating. I know and am sure that in LATAM there are many experts who can contribute quality information to the community.
10. What advice would you give to someone who wanted a push to start participating?
All of us who participate in the community are human, and anyone can enlighten others. You should provide your opinion with the best intentions.
11. What is the most valuable thing you have obtained or achieved thanks to the community?
The most valuable thing is to be able to support people from different countries and realize this is a circle that never ends. Today you help someone, tomorrow someone helps you. Anyone can do it, we just need discipline, perseverance, and dedication!
Want to join Javier? Learn more about becoming a Cisco Designated VIP today or contact us at community.vip@cisco.com for any questions.
*Click here to read the original interview in Spanish (written by Jimena)
◆◆ 2023 VIP Spotlight Series ◆◆
#1 Scott Fella (English community)
#2 Tomy Tim (Portuguese community)
#3 Redouane Meddane (French community)
#4 Changjiang Li (Chinese community)
#5 Chunlin Geng (Chinese community)
#6 Fumihiro Takai (Japanese community)
#7 Javier Acuña (Spanish community)
3 Comments
You must be a registered user to add a comment. If you've already registered, sign in. Otherwise, register and sign in.