Options
Mark as New

Mark as Read

Bookmark

Subscribe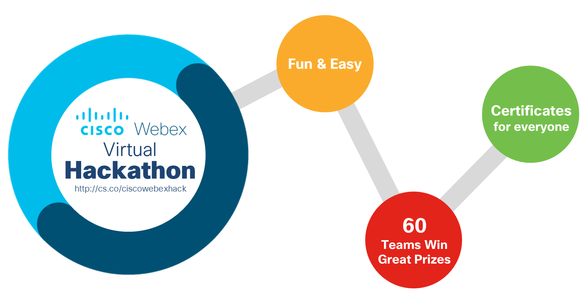 Fun and Easy Virtual Hackathon
60 Teams Win Prizes
ALL Participants Receive Certificate Signed by Execs
Important Note: This contest is governed by the Terms and Conditions in the document attached at the end of this page. Please review it for full details of the official rules.
Submission:
Create a Cisco account and log in to https://innovationchallenge.cisco.com/itonics_campaign_tr3/76/details. It takes just a minute, and you will be automatically prompted to do so when you click on the link (note: works best on Chrome browser; contact hack@cisco.com if you have any issues)

Click SUBMIT to submit your project. Note: You can only be part of one team (1-4 people), and only submit one entry. Remember to submit it by January 15, 2021.
No technical knowledge, experience, or team? No problem. Ideas can be technical or non-technical. All experience levels are welcome. If you need help looking for a team, join this space. Or you can always submit individually. If you have any questions, feel free to ask in this space.
Need inspiration? Check out the Resources section below.
Eligibility: This Hackathon is open to participants who are age eighteen (18) years or older at the time of entry. This Hackathon is not open to: (1) employees or internally contracted vendors of Sponsor or its parent/subsidiaries, agents and affiliates; (2) anyone professionally involved in the development or administration of this Hackathon; (3) employees or internally contracted vendors of governments and government-affiliated companies or organizations; or (4) any employee whose employer's guidelines or regulations do not allow entry in the Hackathon or acceptance of the prize(s). This Hackathon is not open to individuals in the province of Quebec in Canada. In addition, residents of Cuba, Iran, Syria, North Korea, Myanmar (formerly Burma) and Sudan are not eligible to participate. This Hackathon is void in these countries and where otherwise prohibited or restricted by law.
Resume Drop: Optionally, candidates interested in a Cisco career can submit their resumes here: https://jobs.cisco.com/jobs/EventDetailNL?projectId=1297954
Deadline: You can edit your submission up until January 15, 2021 at 11:59pm PST.
Subject to the Terms and Conditions, the following prizes will be awarded. For the sake of clarity, if a Team is designated as a winner, each Participant on the Team will receive the prize for which they qualified below, and the Team will be counted as a single winner for prize administration.
Here are our two main hackathon themes.
You may submit an entry that fits one or both themes.
Cisco Webex and Collaboration

Any solutions to benefit the Cisco Webex / Collaboration business.

Social Good

Any solutions to benefit people, society, or the planet. (Not required to use Cisco products).

Sample Topics:

Next Gen (AR & VR, AI & ML, workplace transformation, etc.)

Experience (end user, customer, operations, analytics, etc.)

Cross Architecture (integrate with cross business unit products, etc.)

....and more. You are not limited to these topics. Feel free to be creative!

Sample Topics:

COVID-19

Work from home / online school

Health, education, environment

....and more. You are not limited to these topics. Feel free to be creative!
Learn More About Cisco Webex and Collaboration
Developer Resources
Need inspiration?
Check out projects from other challenges such as:
| | | |
| --- | --- | --- |
| Section | Description | Scoring |
| Idea | How innovative / creative is the idea? Is the idea new? Is it old but with a new or better implementation? | 0-30 |
| Impact | How significant is the impact of the solution? | 0-30 |
| Implementation | How effective is the approach and implementation of the solution? Is it feasible? Is the experience intuitive and easy to use? | 0-30 |
| Presentation | How well does the team articulate the solution? | 0-10 |
Join our Ask Space
Other inquiries: hack@cisco.com
8 Comments