Beginner
Mark as New

Bookmark

Subscribe

Mute

Email to a Friend
UCCX Script will not play Prompt / .wav file
Hello! I had a situation this morning where I needed to insert a prompt / .wav recording file into our main recording, ahead of all other recordings. For some reason, the system will not play it and skips over it every time. From my experience in the past, this is usually an indicator that the file is in the wrong format. But I have verified that it is (screenshot below). When I run a reactive script debug, it simply skips over the prompt every time.
The item in question is the Play Prompt (Internet Outage):
I have it setup just like the other Strings in the script. All of them play normally:
I have also verified that it is in the correct format: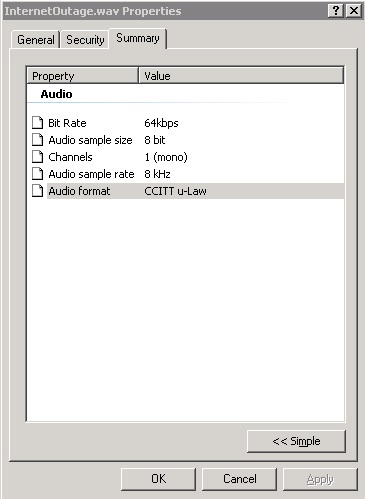 Any help is greatly appreciated. Thanks in advance!
1 ACCEPTED SOLUTION

Cisco Employee
Mark as New

Bookmark

Subscribe

Mute

Email to a Friend
Looks like you found the issue. Now, to resolve it, change your play prompt value to include the prompt directory name.
From this:
Play Prompt (--Triggering Contact--, InternetOutage)
To this:
Play Prompt (--Triggering Contact--, promptDir + InternetOutage)
EDIT: Since your promptDir variable is marked as Final, you can actually prepend the promptDir on the InternetOutage variable right in the variable pane.
Example:
Anthony Holloway

Please use the star ratings to help drive great content to the top of searches.