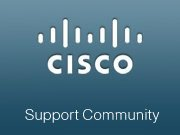 Community Manager
Mark as New

Mark as Read

Bookmark

Subscribe

Email to a Friend
-----------------------------------------------------
http://blogs.cisco.com/datacenter/intel-cloud-builder-cisco-and-intel-deliver-virtualized-multi-tenant-cloud-infrastructure/
Making it Easier to Deploy and Enhance Cloud Infrastructure
Open standards. Open ecosystem. Needs for higher bandwidth. Needs for greater levels of security. Faster application response times. Demand for new levels of flexibility in moving from legacy Data Center architectures to Cloud Computing models. At Cisco, we hear these demands from our customers and partners every day as we deliver solutions to help them drive greater productivity into their business.
But we realize that we can't deliver innovative solutions to the market alone. Not only do we need to work with partners that create world-class technology, but we need partners that are committed to creating intelligent environments that drive participation from every part of the market.
Today Intel launched the Intel Cloud Builder program, part of it's broader Cloud 2015 initiative. This multi-vendor initiative is committed to helping customers as they migrate to various forms of Cloud Computing. Intel Cloud Builder brings together industry leaders to drive new innovations, to educate customers about technology and trends, and to deliver solutions (via Reference Architectures) that can be deployed today.
Delivering Infrastructure as a Service Today….Building Clouds, No Fluff
Core to the Cloud Builder program is the ability of partners to deliver Reference Architectures that have been built and thoroughly tested in the lab. No marketecture allowed, especially when many customers today are confused about Cloud Computing definitions and how this technology can be useful for them. Cisco's initial Reference Architecture is an end-to-end solution which delivers a Virtualized Multi-Tenant Data Center (expanded version in Cisco Design Zone) This flexible architecture allows Enterprises and Service Providers to deploy a secure, automated solution that extends from the Data Center core network all the way down to the Virtual Machine, inclusive of Storage. The architecture allows customers to deploy integrated computing stacks, such as Vblock and SMT, as well as next-generation applications that require low-latency, security and mobility. This will be the first of several Reference Architectures that Cisco plans to deliver within the Cloud Builder program over the next 1-2 quarters.
The goals of the Cloud Builder program align very closely with Cisco's Data Center Business Advantage architecture. We both believe that innovation can be created at the technology level, but true business transformation comes in the form of solutions that change how the business and IT interact. We both believe that the next-generation of Data Centers must not only deliver incredible performance, but it must also deliver flexibility and open-standards that can adapt to the demands of the business. And it must be ready for Cloud Computing, either now or in the near future.
Cisco and Intel- New Markets, New Technologies, World Record Performance

With the Cloud Builder program, Cisco and Intel are taking the next step in our close partnership. In the past we've collaborated on standards that help drive scalability and mobility in our Internet-connected world. More recently, our engineering teams have worked extremely close on the Unified Computing System to deliver world-record application performance on the B230, B440 and C460 servers.
Going forward you can expect to hear much more from Cisco and Intel in roadshows, webcasts and online forums starting today and over the next few months.
You must be a registered user to add a comment. If you've already registered, sign in. Otherwise, register and sign in.