Beginner
Mark as New

Bookmark

Subscribe

Mute

Email to a Friend
Hi,
Trying to get an IPICS system installed and configured and I'm hitting a brick wall. Starting with the os (redhat) install if I follow the setup procedure the manual does not match what is happening on the server, incidently this did not happen on the last install I did.
The server is the MSP-1RU type.
According to the manual Cisco IPICS Server Installation and Upgrade Guide Release 4.0(1)
The section under "Installing Cisco IPICS > Installing the Cisco Operating System > Step 4" after the install completes the server will reboot after which it will display the "Welcome Screen". At this point according to Step 6 I assign the root user password as well as several other user accounts.
At this point on my server the server simply reboots and displays the linux login prompt (picture included). As I havent set the root user password or any other user account password I'm unable to move forward.
Any help would be greatly appreciated.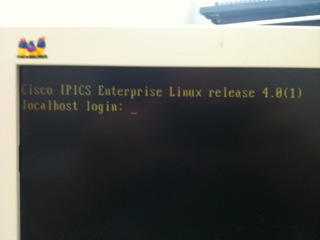 1 ACCEPTED SOLUTION
Beginner
Mark as New

Bookmark

Subscribe

Mute

Email to a Friend
Richard,
I have an answer from the BU for you.
This is for the new MSPs and isn't documented (yet) since these will be built/installed by Cisco manufacturing.
But here are the steps:
login as root
run: reconfigure
this will reboot the server and present you with all those screens for setting passwords, network, etc....