Highlighted
Beginner
Mark as New

Bookmark

Subscribe

Mute

Email to a Friend
Hello
I'm a student currently having a course on data communication and such, and we're currently building a network in GNS3 that contains Frame Relay routing among other things as practice
I'm having problems with DLCI however and i can't understand what's happening. The problem arises when trying to ping from PC1 to R4. As the packets arrive to R4 with a DLCI of 100, R4 should return them with a DLCI of 100, but it's returning them with a different DLCI thus sending them somewhere else and so the ping timeouts.


DLCI 100 is mapped to subinterface S0/0.1 within S0/0 of R4, DLCI 101 is mapped to another subinterface within S0/0 of R4 called S0/0.2, i'm suspecting it has to do with this subinterface
It puzzles me because pinging from R2 to R4 works fine, packets come and go with their expected DLCIs, it's only from the host that it doesn't work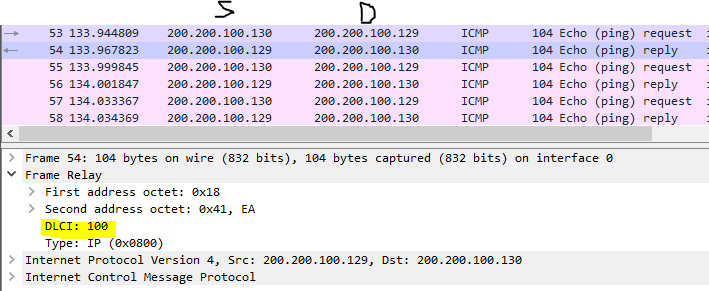 Any help is greatly appreciated. If this isn't the appropriate place to ask for help regarding this issue and i should instead go to the GNS3 forums or somewhere else be sure to let me know and sorry for the inconvenience.
Highlighted
Cisco Employee
Mark as New

Bookmark

Subscribe

Mute

Email to a Friend
Could you please share the configuration of R4 and R2.
Thanks
Vinit
Thanks
--Vinit
Highlighted
Beginner
Mark as New

Bookmark

Subscribe

Mute

Email to a Friend
I have attached them to this message
S0/0.2 on R4 now shows up with a DLCI of 500 instead of 101 because i tried to change the DLCIs to see if that could fix it but it didn't, now instead of receiving 100 and sending 101 it sends 500, so the problem still persists
Thank you for your time