Contributor
Mark as New

Mark as Read

Bookmark

Subscribe

Email to a Friend
By: Dan Kurschner
On December 25th, 2011, 6.8 million new smart mobile devices were activated in a 24 hour period. In that very same 24 hours, 242 million applications were downloaded. This is an increase of 140% from that same day one year earlier. Welcome to the New Normal.
Our mobile devices have become instrumental to our busy daily lives. We work, entertain, share events in a very visually intensive manner. This drives mobile broadband consumption to ever increasing levels. Our smart mobile devices are also very chatty little things (both their operating systems and our applications). As a result, it is not unusual for a single device to generate over 100 signals every minute. Now multiply that in Mobile Operator terms of 1 million, or 10 million, or even 100 million subscribers (both human and machine). And this is the New Normal.

The New Normal is what once were occasional, unpredictable events that tax the network and now occur so regularly that they are indeed the norm. This poses as both an opportunity and a challenge for the Mobile Operators around the world. Architectural tenets that supported static, siloed, network design no longer support the realities of today and certainly not the future. Leaders of mobile operators have stated openly that they need an architecture that is flexible and can operate as a single intelligent entity.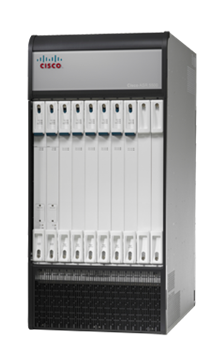 Cisco has responded to this need with the Elastic Architecture. This architecture is a true fusion of Mobile Cloud orchestration with Intelligent Network, Elastic Core and Heterogeneous Access. A key piece of this architecture is the Elastic Packet Core. The ASR 5000, the industry leading Elastic Packet Core, has been expanded with the addition of the ASR 5500 becoming the ASR 5000 series. The ASR 5500 uses the same software as the ASR 5000 and delivers up to 10-times the scale and performance. Designed for Terabit performance and lower power consumption (Watts/Gigabit), Elastic has just gotten more powerful. What is truly unique about the Cisco Elastic Packet Core is its Intra-Chassis Virtualization. All functionality (Control Plane, Data Plane and Services) can share resources of all processing power as if the chassis was its own cloud network. This is very different from other packet core solutions that require separate chassis and separate cards for different generations and functions (3G, LTE, Control, Data, PDP, Policy, WiFi, etc). As result the Cisco ASR 5000 series is better utilized and provides true elasticity to react automatically in real time to the challenges of the New Normal. Recent third party research and modeling has shown that in a very real-world scenario the Cisco ASR 5000 series requires up to 65% less equipment and delivers up to 47% lower TCO over a 5-year period than our competition.
You must be a registered user to add a comment. If you've already registered, sign in. Otherwise, register and sign in.