Options
Mark as New

Bookmark

Subscribe

Mute
‎03-07-2012 04:55 PM - edited ‎07-03-2021 09:44 PM
Hi,
I'm trying to get confirmation on whether you can have workgroup bridge mode on the 1040 series model.
The 1041N has the same IOS as the 1141/1241 and it has the settings are there, but I read somewhere on the cisco site that workgroup bridge is only supported on 1100 and 1200 series, is this correct or old information?
Scenario is:
I have an existing stand alone 1041N AP, on the other side of the building I have a network LAN switch with a couple of PCs, instead of running cables I would like to add an AP as a bridge to link that switch and PCs to the network that the AP is plugged in to. I believe this is called Workgroup Bridge Mode. In fact there already is a cheap non-cisco wireless device doing this but it is unreliable.
I just placed an order for Two 1041N APs, do I need to change the order to Two 1141N instead?
Also even if the 1041N does not support workgroup bridge mode, can it still act as the ROOT Bridge and have 2 1141N APs configured in bridge mode connected to the 1041N?
Example image: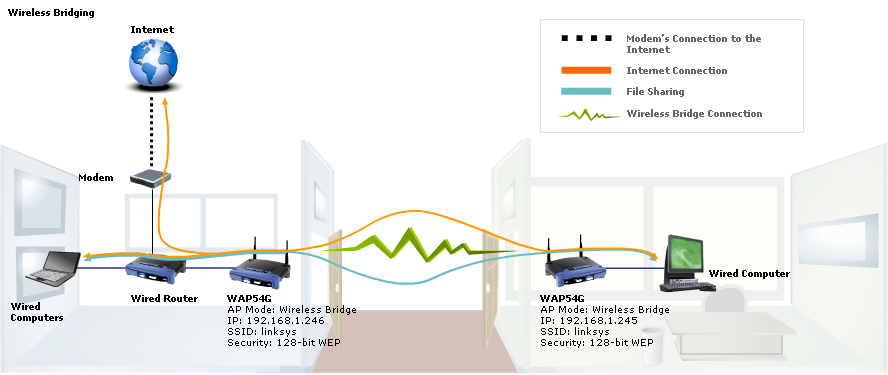 Thanks
1 Accepted Solution
Options
Mark as New

Bookmark

Subscribe

Mute
‎03-07-2012 06:25 PM
Options
Mark as New

Bookmark

Subscribe

Mute
‎03-07-2012 06:25 PM