Beginner
Mark as New

Bookmark

Subscribe

Mute

Email to a Friend
Bridge-domain traffic paths
Hi guys,
Couldn't really get into logic of bridge-domain and hsrp coexistence. How traffic will be flooded?
Imagine following topology: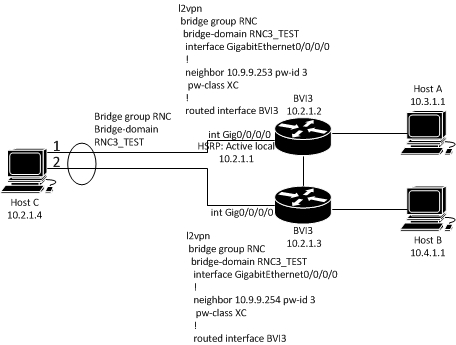 Bridge-domain and hsrp is running between ASR1 and ASR2.
Host C has two network adapters. Both are in UP state, but only one of them is forwarding traffic.
I am curious, what path traffic will take from host A to host C and from B to C in situation when :
1) net.adapter #1 is active
2) net.adapter #2 is active
p.s. active router for hsrp remains the same.
We have captured traffic on the devices, and it was a bit confusing to me that standby hsrp router was forwarding traffic from host B out of g0/0/0/0 and pw 3
I would appriciate any help...
1 ACCEPTED SOLUTION
Cisco Employee
Mark as New

Bookmark

Subscribe

Mute

Email to a Friend
this is a dangerous setup Marks, there is a loop possible with the PW in the same split horizon group as the attachment circuits.
To answer your question; the bridge will forward based on the mac learning table, if it knows that a mac (of the server) is found via one link it will continue to forward that way until that mac is flushed and we start to flood, or the mac is not refreshed and ages out, after which it will start flooding also.
when the server brings down the link, it is important that the 9k/router sees that link down also, so it can converge.
if it doesnt, then you need to do some IPSLA or something like that to "test" the link and remote host and trigger on that with a message to HSRP to failover or to bring down the interface so we flush the MAC.
regards
xander