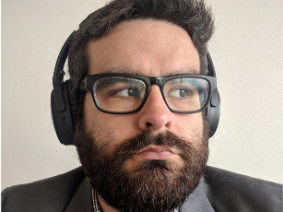 Beginner
Mark as New

Mark as Read

Bookmark

Subscribe

Email to a Friend
We have had a pretty busy couple of months around here at Spark for Devs. We've been spreading the good word about Cisco Spark to events around the world. I just wanted to take a minute here in this blog post to wrap up what we've been up to lately.
TechCrunch held a very successful meetup in Seoul, South Korea, where many of the attendees were involved in a pitch-off. The winner of the pitch-off was the AI-powered scheduling assistant, Konolabs. You can click the link above to see a video with highlights and here are a couple of pictures from the night...

Cisco Live is always a good time, and especially when it's in beautiful Cancun. People from all over Latin America gathered in Cancun to get an taste of what Cisco is up to and get hands-on with Cisco Spark and Tropo. Here are a few pictures from that event.

Back in San Francisco, California, USA, startup founders gathered to put their ideas to the test and learn from the best at LAUNCH Scale. We were there to hear the speakers and let everyone know how great Spark can be for a growing company.
In Lisbon, telcom app developers gathered around to show off their stuff and exchange ideas with the best and brightest that the telcom industry has to offer. Proving that telcom isn't a tired, old industry, TADHack also hosted hackers putting together full apps in under two days. Cisco Spark and Tropo were there sponsor, learn, and help. Click on the link above to watch some video, see some pictures, and read a full write-up of the event.
November 17 - Spark Open House in NYC
In NYC, customers were invited to attend the first Spark Open House event. This one-day event included eight Cisco Spark stations covering Cisco Spark Message, Meet, Call, and APIs. The Spark APIs station covered integrations, bots, and open source development. Cisco Spark Depot partners Status Hero, Talos Digital, and Cumberland Group joined us to showcase the integrations and bots they have created. Connecting customers with our partners is our mission!

If you're at all interested in tech and were in Isreal on November 20th, this is exactly where you wanted to be! On top of a conference and a hackathon, Geektime TechFest also hosted a startup competition that boasted some pretty fabulous ideas including the winner of the competition, Imperson, which is a chat bot that promotes and sells products and services. There were so many fun times and too many pictures to pick just a few to post here. Check out their Facebook Page to see a bunch of fabulous moments from the event!

Speaking of chatbots, Chatbot Summit featured some of the greatest minds in the chatbot world who came together to talk, teach, and learn about the future of automated messaging. Taking place as part of Geektime TechFest, it was a simple to go back and forth and include Chatbots in the realm of technology as a whole. Check the Facebook page linked above for more info and pictures of the events!
Who doesn't enjoy food and wine in Italy? Many tech evangelists presented at Codemotion ranging from IoT to Big Data. Jason Goecke opened up the event with an inspirational presentation focusing on developers and introducing attendees to Cisco DevNet. Steve Sfartz and Angelo Fienga dug into the interaction between IoT and humans.
You must be a registered user to add a comment. If you've already registered, sign in. Otherwise, register and sign in.