Highlighted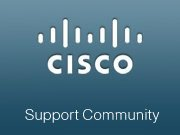 Community Manager
Mark as New

Bookmark

Subscribe

Mute

Email to a Friend
Ask the Expert: Cisco Unified Border Element (UBE) Enterprise
With Robin Cai
Welcome to the Cisco Support Community Ask the Expert conversation. This is an opportunity to and ask questions about how to design and troubleshoot Cisco Unified Border Element (UBE) for the enterprise with Cisco expert Robin Cai. You can ask questions on how UBE works in different call scenarios, including normal calls, hold/resume, call transfer, call forwarding, as well as best practices.
Robin Cai is a senior customer support engineer in the Cisco Technical Assistance Center in Sydney. His current role includes configuring, troubleshooting and designing Cisco Unified Border Element Enterprise and Service Provider, voice gateways, and Cisco Unified Communications Manager. He has in-depth knowledge of Cisco and industry signaling protocols. He has more than 11 years of experience working in the telecommunication industry. Previously at Cisco he was a senior software test engineer at the China Research & Development Centre in Shanghai. Before joining Cisco, he worked for UTStarcom as a field support engineer and for Huawei Technologies as a software development engineer. Cai holds a bachelor's degree in computer science from Nanjing University of Science & Technology. He also holds CCIE certification (#26037) in Voice and Routing & Switching.
Remember to use the rating system to let Robin know if you have received an adequate response to your technical support question.
Robin might not be able to answer each question due to the volume expected during this event. Remember that you can continue the conversation on the Collaboration, Voice and Video sub-community discussion forum shortly after the event. This event lasts through December 21, 2012. Visit this support forum often to view responses to your questions and the questions of other Cisco Support Community members.
1 ACCEPTED SOLUTION
Highlighted

Collaborator
Mark as New

Bookmark

Subscribe

Mute

Email to a Friend
Hi Robin,
I am hoping that you can help me with some security questions for SIP trunks. I have configured CUBE on a 2900 ISR to link to an Internet Telephony Service Provider and want to make sure that it is secure.
I have connected Gi0/0 to an inside VLAN and Gi0/1 to the public Internet with a registered address.
So far for security I have set the ip trusted address list feature to include just the CUCM server and the IP address of the SIP provider
voice service voip
ip address trusted list
ipv4 10.1.1.11 255.255.255.255 <-------------- CUCM server 1
ipv4 222.222.222.222 255.255.255.255 <-------------- ITSP SIP server
address-hiding
mode border-element
I also have set an ACL to limit inbound connections from the Internet to SIP signalling and media traffic from the ITSP server
interface GigabitEthernet0/0
description CUBE Inside Interface
ip address 10.3.1.4.11 255.255.255.0
duplex auto
speed auto
!
interface GigabitEthernet0/1
description CUBE Outside Interface
ip address 111.111.111.111 255.255.255.255
ip access-group SIP-Inbound in
no ip unreachables
no ip proxy-arp
!
ip access-list extended SIP-Inbound
permit udp host 222.222.222.222 host 111.111.111.111 eq 5060
permit udp host 222.222.222.222 host 111.111.111.111 range 6000 40000
deny ip any any log
!
I also set the call spike feature
!
call spike 5
!
I also limit the number of connections on the SIP ITSP dial peer
dial-peer voice 100 voip
description Outbound SIP calls
max-conn 40
destination-pattern .T
session protocol sipv2
session target ipv4:222.222.222
voice-class codec 1
voice-class sip privacy-policy passthru
voice-class sip early-offer forced
!
Note that the ITSP does not offer SIP registration by username/password or any form of encryption.
Is the above configuration secure or do I need to deploy a firewall in front of the CUBE?
If I should use a firewall this could be challenging as the customer uses Watchguard firewalls and I would have to move the outside interface of the CUBE to the WatchGuard DMZ. Hosts in the DMZ use private addresses so the Watchguard would be doing NAT which I guess could be tricky.
Are there any other forewall options you would recommend? e.g.
IOS Firewall - could I just enable this on the CUBE and get it to do SIP inspection? - I have been trying to find a sample config for this without success.
ASA Transparent firewall - deploy one of these as a bump in the wire between the CUBE and the ISP router.
Is there any value in configuring stateful inspection on firewalls for SIP or does this just replicate what the CUBE itself does?
I am also interested in other security features that could be enabled. What would you recommend I configure?
Thanks
James