Options
Mark as New

Mark as Read

Bookmark

Subscribe
‎10-08-2020 02:16 PM - edited ‎10-29-2020 12:22 AM
Dear all,
find below some quick notes on new FLEX3 On premises CUCM model.
New commercial model for CUCM customers --> FLEX 3
FLEX 3 is the new model to purchase CUCM onpremises licenses and support.
It is orderable now and is subscription-based.
Benefits for CUCM customers:
Better cash flow through monthly and annual billing options (vs. pre-pay)
Additional functionality included – SRST, Webex Teams (depends on user type)
Allows access to new valueable options/services (like Webex Cloud Connected UC,etc.)
Special pricing
Simple and extensible to Meetings. Special bundles for calling+meetings option
Flexible migration to the cloud (if desired)
CUCM customers could use it for below cases:
add new users
upgrade existing users (for example add Jabber softclient to existing user,etc)
SWSS Renewals
You can have a mix of perpetual licenses with SWSS and Flex 3 licenses on same CUCM.
What about old traditional ordering path ?
Traditional perpetual part numbers (CUCM Essential,Basic, Enh, Enh Plus, CUWL) will be available for ordering till 23 Jan2021. After 23 Jan 2021, only FLEX3 will be available option.
Related End of Sales can be found below :
End-of-Sale and End-of-Life Announcement for the Cisco Unified Workspace Licensing Standard Edition / Perpetual
End-of-Sale and End-of-Life Announcement for the Cisco Unified Communication Manager / User Connect Licensing- Perpetual
Customers with existing SWSS could maintain them till 31 Jan 2024 if desired or move to flex3 model at some time.
Is there a change on CUCM product itself?
There is no change on the product itself and offcourse there are no plans for end of sale of CUCM solution. CUCM development continues as planned - CUCM 14 is expected in 2021 and we are planning/developing future versions.
FLEX 3 license types and mapping with CUCM licenses :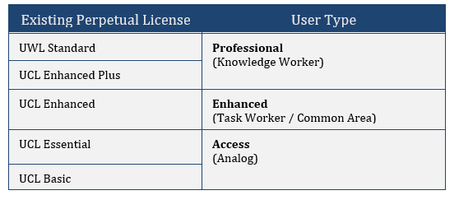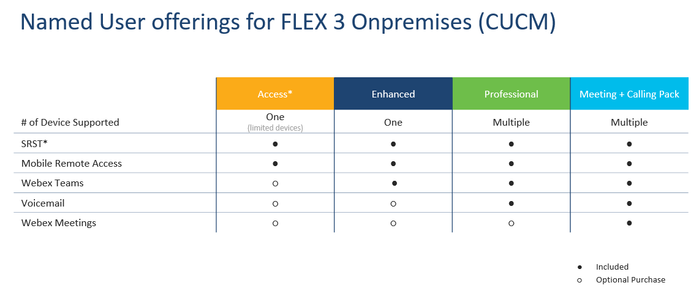 So:
if you need multiple devices (users with softphones,etc) and voicemail --> Flex 3 Professional
if you need 1 device (phone or Jabber softphone) only --> Flex 3 Enhanced
If you need 1 devices (phone of type 7821,7811, 3905 analog) -- > Flex 3 Access
All provide SRST and MRA. Enh and Prof provide also paid Webex Teams messaging.
And, offcourse, there is an option to combine Professional user with Webex Meetings service --> Meeting and Calling pack
FLEX EA(Enterprise agreements) are also available with great benefits.
Important note on subscription and expirations:
Note that FLEX3 is subscription model and provides services while subscription is active. This means that, if Flex3 subscription is not renewed and expires, then CUCM system will move to ''out of compliance mode'' state and would provide 90 days grace period to allow customer to renew subscription. All services run without problem during this 90-day grace period. If 90 days pass and subscription has not renewed, then CUCM will move to ''enforcement mode'' and will not allow admin to do (MACD) Move/Adds/Changes/Deletion tasks.
So it is important to maintan your subscriptions and plan properly.
--------------------------------------------------------------------------------------------
hope this helps
please rate if you find helpful
Index of all my collab community posts --> Looking for info on Cisco Collab solutions ?
rgds
Alkiviadis
---------------------------------------------------------------------------
DISCLAIMER: this post was created in order to provide useful info to Cisco partners and customers in my area (Greece/Cyprus and Malta). For official and updated information, please consult cisco documentation, datasheets and ordering guides.