Options
Mark as New

Mark as Read

Bookmark

Subscribe

Email to a Friend
‎09-29-2012 02:50 AM - edited ‎03-12-2019 09:53 AM
How to configure SNR/remote Destination on CUCM
What is SNR/Remote Destination?
. If someone calls you on your deskphone and SNR is configured like your mobile phone is associated with your deskphone, your mobile phone will also be connected after configurable number of seconds. So when you are moving somewhere from your desk and, your call will never me missed
Now let's talk about it's configuration, it's pretty easier to configure, follow me:
1. Create an end user and associate his deskphone at his profile:
2. Configure Remote Destination Profile (RDP):
Go in Device->Device Settings->remote destination Profile
Things to keep in Mind!
1)Make sure your remote destination number ie your Mobile number matches a Route pattern going to your Gateway 2)Make sure the Re-routing CSS has the access to the Route pattern to successfully route the call to your mobile number.
3)Associate the Line number to your Desk phone extension (very IMP)
3. Configure Remote Destination:
Go to Device->Remote Destination
Things to keep in mind
Make sure you check Mobile phone and enable Mobile connect.
Associate it with the Remote destination Profile.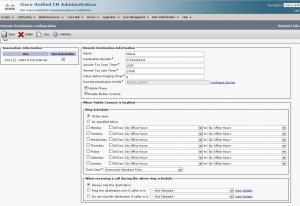 Now let's have a try calling your deskphone, your mobile will also be connected after configured seconds (4 seconds by default), if you answer your call from the mobile your deskphone can sense it! wohoo!! your deskphone line will lid red as long as you are talking over mobile. okey, now think you have reached near to your desk and now you want to keep talking using your deskphone, so hangup the call from the mobile it will get hold automatically and now resume it from your deskphone .