Highlighted
Mark as New

Bookmark

Subscribe

Mute

Email to a Friend
CVP app to ICM External VXML variables blank
First time trying this so please advise. I am trying to pass data from my CVP app out to my Finesse agent.
However, the data I put into the CVP_Subdialog_Return element does not show up in the FromExtVXML variable. When data is already existing in an ICM variable then I have no problem setting the PeripheralVariable and seeing it in the agent desktop.
I don't even get the data from caller_input.
The end part of my CVP script. Just trying to push in regular String data as a test.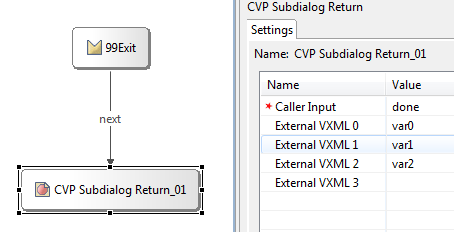 Overview of my ICM script. Each node gets hit as expected. My suspicion is that the vars coming in from CVP are empty.
Detail on setting one of the PVs.
I might be missing some simple setup step, so please let me know if that's the case!
I have tried rebooting the PG machine.
Didn't see anything helpful in the PG logs; it did show the extension being rung though.
Cisco UCCE, 11.6
2 ACCEPTED SOLUTIONS
Highlighted
Cisco Employee
Mark as New

Bookmark

Subscribe

Mute

Email to a Friend
Agree, the return from the CVP app looks good. Next place then is the CVP log to see what it's sending to ICM, the PG VRU trace to see exactly what's going over GED-125 and also check out the ICM database (assuming you have persistent set on the ECCs).
Highlighted
Mark as New

Bookmark

Subscribe

Mute

Email to a Friend
Aha! I found the problem. Thanks everyone for the help and advice, I've learned how to better troubleshoot these things.
My problem was that my SetVariable nodes in ICM were out of order. I was setting the PeripheralVariables using the FromExtVxml but BEFORE I actually called the RunExtScript, so of course they were still blank.