Options
Mark as New

Mark as Read

Bookmark

Subscribe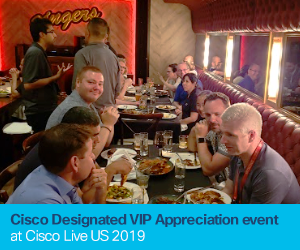 The Cisco Designated VIP dinner at Cisco Live San Diego was the largest attended event since it started in 2011. It has been amazing to be able to meet all the Cisco Community and Cisco Learning Designated VIPs attending Cisco Live San Diego.
Thank you all for making the effort to attend. The appreciation dinner took place at one of the best places in San Diego, barleymash. I loved the interaction and the stories you all shared.
We had Hall of Fame members Chris Deren, Peter Paluch, and Scott Fella, Cisco Community VIPs Anthony Holloway, Damien Miller, Daniel Ordonez, Francesco Molino, Jonathan Schulenberg, Karsten Iwen, Mareen Mahoney, Paul Haferman, Rahul Govindan, Rasika Nayanajith, and Srinivasan Kilambi; Cisco Learning VIPs: Daniel Dib, David Peñaloza, Mark Holm, and Micheline Murphy. Former Cisco Learning VIPs Riikka Sihvonen and Elvin Arias (now Cisco Employees.) From Cisco we also had a great attendance: VP Tony Colon (head of CX Product Development), VP Karthik Chakkarapani (VP CX Digital Transformation), Theresa Verba. From Cisco learning: VP Mike Adams, Dir Makarand Chitale, Mgr. Ranjeev Mahindru, Matt Saunders, Susan Shaw, Elaine Lopes, Rigo Villa, Angela Mendoza, and Angie Marquez, From Cisco Community, Sr. Dir. Steve Cox (CX), Dir. Monica Koedel, Denise Brittin, and myself.

The party had the traditional raffle. This time we had five prices, from a Garmin watch to a mini iPad, and some Bose speakers and earbuds. Congratulations to all the winners.
The evening ended with a surprised happy birthday to Peter Paluch! Thanks to David Peñaloza for the delicious cake
Many thanks to Angela Mendoza for selecting such a nice place for the dinner.
I hope all of you are enjoying the Conference and don't forget to visit the Customer Connection. Cisco CX Labs, and Certifications booths, all located in the World of Solutions.
You must be a registered user to add a comment. If you've already registered, sign in. Otherwise, register and sign in.